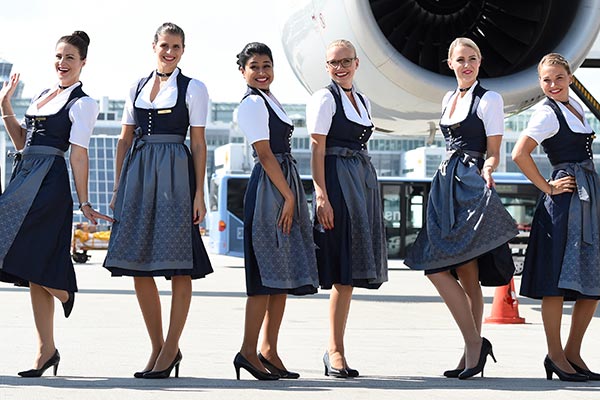 Crew members of a Lufthansa Airbus dressed in typical Bavarian costume pose at the airfield of Franz-Josef-Strauss Airport in Munich, southern Germany. [Photo/Agencies]
Deutsche Lufthansa AG and Air China Ltd signed a cooperation agreement that will enable the two members of the Star Alliance group to take on competition from the rival Skyteam partnership and boost earnings.
The flag carriers of Germany and China plan to share revenue on China-Europe routes when the venture takes off next year, the two airlines said in a statement distributed in Beijing on Tuesday.
The joint venture is the closest the two carriers can get under restrictions on foreign control of Chinese airlines.
The agreement, after two years of negotiations, gives Lufthansa and Air China a better grip to operate China-Europe routes together, after rival Skyteam members formed a partnership earlier. Air France-KLM Group already has joint ventures with Skyteam alliance partners China Southern Airlines Co-the biggest Asian airline by passengers-and China Eastern Airlines Corp that involve timetable harmonization and cost- and revenue-sharing on some routes.
The deal will help Air China reduce its reliance on the domestic market, which accounts for more than 60 percent of revenue.
Lufthansa and Air China plan to coordinate flight schedules under the venture whose preliminary agreement was announced in 2014.
The partnership will allow Lufthansa to extend its reach in a country poised to overtake the US as the world's largest air-travel market.
It also adds to Lufthansa's network of revenue-sharing agreements for major markets as it seeks to fend off threats including from Gulf carriers such as Emirates and Qatar Airways.
The German carrier last year struck a similar revenue-sharing pact with Singapore Airlines.
Bloomberg