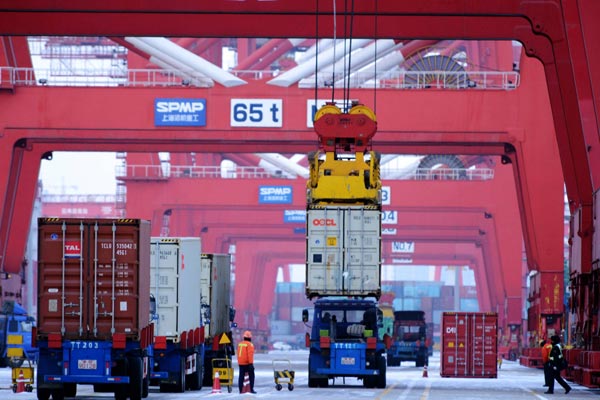 A ship loads containers at a terminal in Qingdao, Shandong province. [Photo/China Daily]
The Ministry of Commerce vowed on Tuesday to continue its attempts to boost trade growth-as it said the trade outlook remains dim despite recent signs of improvement.
Ministry spokesman Shen Danyang said that China's foreign trade was still facing growing downward pressure despite a turnaround in imports and exports in August which showed that government policies have taken effect.
Shen's comments followed August trade data showed a surprising improvement, which beat analysts' expectations, with yuan-denominated imports rising 10.8 percent and exports gaining 5.9 percent year-on-year.
However overall trade in the first eight months continued to fall, with imports dropping 2.9 percent and exports down by 1 percent from the same period of last year.
"We should not be blindly optimistic," Shen told reporters at a Beijing news conference.
"The outlook remains tough and we are still facing rising uncertainties and a lot of difficulties which are not short-term ones."
Shen said China would continue with its policies to spur trade growth and to reduce costs for companies.
Economists said that while the improvement in August trade data pointed to short-term economic stabilization, it was still uncertain whether it would be sustainable.
"Following an across-the-board moderation in July activity data, we think the stronger-than-expected August trade data points to some near-term improvement, although this may not be sustainable," said Chang Jian, chief China economist at Barclay's Capital, in a research note.
"We believe the government is likely to lean toward using more fiscal and quasi-fiscal measures to support growth, while remaining cautious about making broad-based interest rate cuts given high financial leverage, and a potential housing bubble," Chang added.
At the news conference Shen also said that China's environment for foreign investment was not deteriorating, responding to criticism that it was becoming more difficult for foreign firms to invest in China.
"Such criticism is biased and does not reflect the overall investment environment in China," he said.
The fact that some firms have had difficulties investing and operating in China was due to several reasons-including their diminishing competitive advantage, the slowdown in global demand and the Chinese economy as well as rising costs-Shen said.
China's top legislature earlier this month amended four key investment-related laws to facilitate growth. Starting October, the country will officially adopt the negative-list approach, which will specify investment sectors that are off-limits to foreign investors.