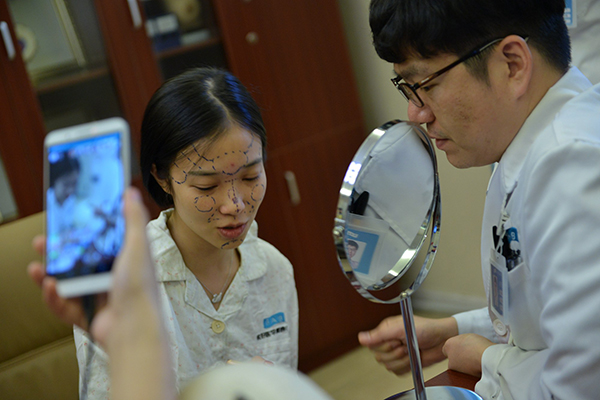 A girl receives a doctor's review in a hospital in Chengdu, Sichuan province, before going through a cosmetic surgery. [Photo/China Daily]
The scale of the cosmetic surgery sector is surging in China, with more and more movie stars and young consumers having the procedures. More internet startups and O2O platforms have started to join the sector.
The output value of the sector reached 535 billion yuan ($81 billion) in 2014 and is expected to top 1 trillion yuan in 2019, with an annual growth rate of 15 percent, according to a report by Industrial Securities this year.
Still, privately-owned agencies dominate the market, and it has been difficult for them to become strong household names or brands. Unknown institutes have to compete for customers by spending big money, usually 60 to 70 percent of their profits, on advertising.
"Internet platforms emerged as a new way for cosmetic surgery institutes to attract customers, as traditional advertisers and the search engine Baidu Inc are costing them too much," said Lou Jun, vice president of China-focused venture capital funds IDG Capital Partners, news portal jiemian.com reported.
Lou last year led the investment in mdl.com, an online community and e-commerce platform for people to learn and share cosmetic surgery related information.
"Such an online-to-offline platform about cosmetic surgery will help the industry to cut its advertisement and promotion out of Baidu.com. This is like what Dianping.com, China's biggest online food service rating website and a key information provider, did with the catering business," Lou said.
In China, over 80 percent of cosmetic surgery consumers are women, and those aged between 18 and 30 account for over 60 percent of the total, according to an industry report.
The O2O model, despite a rather small business unit in the cosmetic surgery industry, is seeing some front runners in terms of their funding sizes and overall rankings. SoYoung.com, gmei.com, yuemei.com and mdl.com are the top four O2O platforms in the market.
They all developed in similar ways. First, they established communities for users to share experiences and doctors to give professional advice, then they launched O2O e-commerce services. The difference between the rivals did not show up until recently, when they went through rounds of financing.
SoYoung.com was the first to finish the series C round of funding. It started by hiring a huge number of Chinese students studying in South Korea to translate South Koreans' diaries that documented their personal experiences of having plastic surgeries.
Tan Xingjiong, deputy director of the internet branch at the Chinese Association of Plastics and Aesthetics, said: "The biggest challenge of the cosmetic surgery sector is gaining the trust of consumers. After all, it is a sector with certain risks and slow growth. The O2O platforms need a long time to obtain consumers' trust."