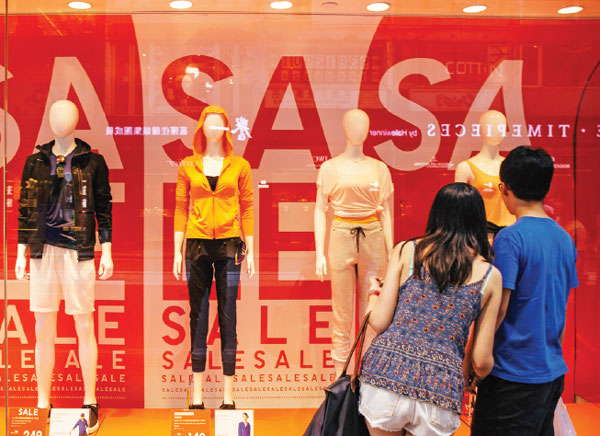 A couple look at a display window of a Uniqlo store in the Causeway Bay district of Hong Kong, China, on June 19. The clothing company sees a potential for 3,000 Uniqlo stores in China, and $48 billion in worldwide sales by 2020. [Photo/Agencies]
Fast Retailing Co's casual-clothing chain looks for growth outside Japan as parent's profits flag
Casual-clothing chain Uniqlo is taking its biggest chance in Southeast Asia.
The unit of Fast Retailing Co is opening a store on Singapore's iconic Orchard Road that will have 2,700 square meters of shopping space on three floors. The store will be Uniqlo's largest in the region as the brand looks for growth outside Japan to revive flagging profits at its parent.
Fast Retailing is busy opening stores in the US, London and across Asia to help reduce its dependency on a home market where Japanese household spending is falling.
Billionaire Chairman Tadashi Yanai Thursday reiterated plans to generate 5 trillion yen ($48 billion) in sales by 2020 to keep Fast Retailing competitive with Hennes & Mauritz AB and Zara-owner Inditex SA. Low prices are now key in that equation.
"Keeping the low prices every day is important. That will be critically important given this environment," said Yanai at a briefing in Singapore ahead of the store's debut. In May, he reversed the company's earlier attempt to hike prices that resulted in slumping sales. "We also aspire to provide truly great clothing at the lowest possible prices."
This will be the 25th store in Singapore for Asia's largest clothing retailer, bringing its Southeast Asian presence to about 130 outlets. The 67-year-old Yanai, Japan's richest man with a net worth of $18.3 billion, called the opening of the flagship store an opportunity. He sees markets in the Association of Southeast Asian Nations - the ASEAN region - possibly contributing to 30 percent of Uniqlo's international sales in five years.
"Southeast Asia expansion will help Yanai achieve his 5 trillion-yen sales target," said Dairo Murata, an analyst at JPMorgan Securities Japan Co. "But to achieve that goal in three years will be difficult."
Uniqlo last September opened a six-story China flagship store in central Shanghai, and Yanai reiterated plans to open 100 stores a year in China on its way to a potential 3,000. The brand's Southeast Asia presence includes about 30 stores each in Malaysia, Thailand and the Philippines.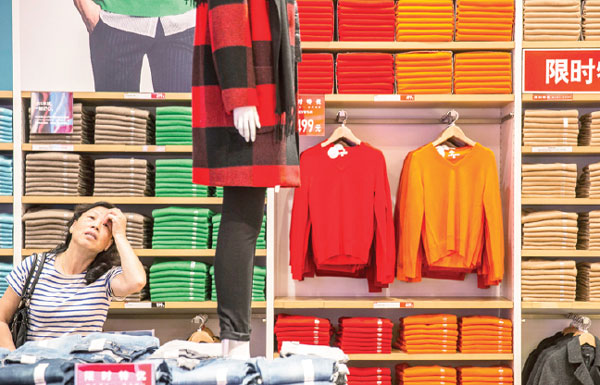 A female customer browses merchandise at the Fast Retailing Co flagship Uniqlo store in Shanghai. [Photo/Agencies]
That overseas expansion has made Fast Retailing more vulnerable to a strengthening yen, which prompted a cut to its full-year net income forecast in July. Yanai said the exchange rate's effect on the company's bottom line is a problem, "and the impact can not be underestimated".
Yet, recent signs of recovery in the Uniqlo business lifted Fast Retailing's shares 8.7 percent in August, paring the year-to-date slump in the stock to 16 percent. Shares dropped 1.1 percent to 35,940 yen in Tokyo trading Thursday while the country's benchmark index advanced.
Fast Retailing's operating income for the third quarter that ended in May rose 19 percent from a year ago as sales in Japan and overseas improved. To keep up with the increasing popularity of e-commerce, Uniqlo will revamp its logistics and distribution, Yanai said on Thursday.
There are also opportunities for expansion in the US, particularly on the West Coast since it is seen as an extension of Asia, he said.
"Japanese businesses, including ours, need to transform the way we do business," he said.
While Fast Retailing will expand in the US, with plans to open four new stores this year, it's still struggling with a lack of brand awareness, especially in the suburbs, said Hiroshi Taki, chief executive officer of Uniqlo in the US.
Fast Retailing has sustained losses in the US, where it has 44 stores. But it plans to double its marketing spending by opening pop-up stores in New York and using billboards, social-media influencers and local ambassadors to drum up interest in the brand, Taki said in an interview at a renovated store in SoHo, New York.
It also plans to expand its e-commerce business, especially through mobile phones, to make the business account for as much as 30 percent of its total US sales in two to three years, he said.
"Not many people have purchased our products, although they know about our brand, Uniqlo, so we are making a marketing effort to let people know," Taki said through an interpreter. "We will focus on New York City first. With that success in New York City, we can succeed anywhere else."
Bloomberg