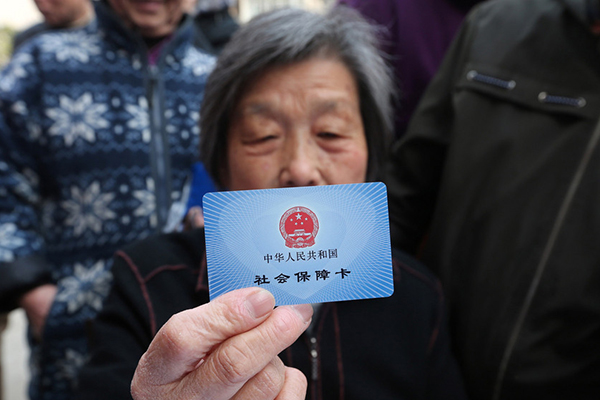 An elder shows her social security card in Nantong city, Jiangsu province, March 30, 2016. [Photo/IC]
China's pension insurance balance of urban employees and urban and rural residents added up to four trillion, according to the Annual Report on Social Security Development 2015, Southern Metropolis Daily reported on Monday.
Issued by the Institute of Social Security Research, Ministry of Human Resources and Social Security, the report shows that the return rate of enterprise employees' pension insurance fund reached 3.1 percent, the highest in seven years.
The report also shows that despite the rising pension insurance balance since 2012, the payable number of months fell to 17.7 months last year from 19.7 months in 2012.
More provinces are falling in situations where the pension fund cannot cover the expenditures. As one of six provinces with the same problem, China's northeast province Heilongjiang's enterprises pension can only pay up to one month.
Yang Yansui, director of the School of Public Policy & Management at Tsinghua University, said the four-trillion-pension balance was mostly in personal accounts, while the pay-as-you-go pension system was greatly challenged by dependency ratio.
"When the actual dependency ratio of pension insurance gets down to three to one, the payment cannot be lower than 17 percent. If it drops to two to one ratio, it means that everyone is going to pay 25 percent", Yang said. "The financial burden gets heavier when the dependency ratio gets lower," Yang said.
"The restructuring of pension system must be finalized in two years."
To make sure the plan goes through, the central government must reinforce the plan to co-ordinate basic pension, enhance enterprise annuity and manage personal accounts properly, Yang says.