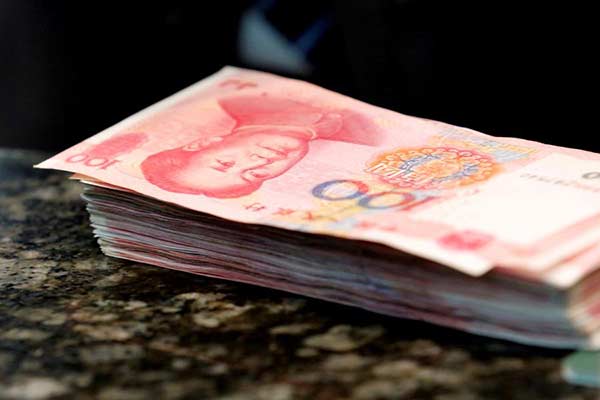 Chinese 100 yuan banknotes are seen on a counter of a branch of a commercial bank in Beijing, March 30, 2016. [Photo/Agencies]
One year after the exchange rate reform, the onshore and offshore yuan remain stable after several big fluctuations and could be nearing a bottom, according to Bloomberg.
China's stable economy, the change in capital flow and increasing holding of equities and bonds by foreign investors, all these factors indicate that yuan, which has devaluated 6 percent, is likely to be close to its fair value.
As of Aug 12, the onshore yuan weakened 6.4 percent against the dollar since last Aug 11, ranking third from the bottom among emerging market currencies. Other two biggest losers were the Argentine pesos and the Mexican peso, which lost 37 percent and 11.5 percent respectively.
However, in terms of GDP growth, current account surplus and benchmark interest rate, China's performance was better than the above-mentioned countries, Bloomberg said.
It's unreasonable that yuan saw bigger decline while other currencies of countries which have close trade relationship with China show an increase, said Zhou Hao, a senior economist at Commerzbank.
Zhou added that the forecast of yuan against dollar has risen to 6.65 from 6.90 early April.
China's economy showed stable growth during the second quarter this year, with GDP growth of 6.7 percent year on year, beating median forecast.
Though earlier released data including industrial production and retail sales fell short of estimates, however, some industrial indicators such as electricity, crude steel and steel output all retained a strong sentiment.
Over the next few months, the demand for renminbi will rise, and the currency is expected to appreciate, said Dariusz Kowalczyk, a Hong Kong-based strategist at Credit Agricole CIB.
Even though the rise will not be too big, it will not be so weak as other analysts have expected, Kowalczyk said.
On Aug 11, 2015, the People's Bank of China (PBOC), the central bank, announced a major improvement to the formation of the yuan's central parity rate against the US dollar, by taking into consideration the closing rate on the inter-bank forex market of the previous day.