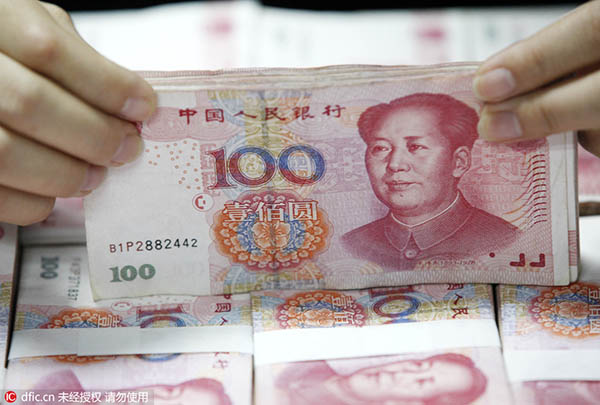 A Chinese clerk counts RMB (renminbi) yuan banknotes at a bank in Huaibei city, East China's Anhui province, Dec 1, 2015. [Photo / IC]
BEIJING -- The Chinese currency renminbi, or the yuan, continued to weaken on Tuesday but analysts said more sharp depreciation is unlikely.
The central parity rate of the yuan weakened 10 basis points to 6.6971 against the US dollar, the weakest level in five and half years, according to the China Foreign Exchange Trading System.
In China's spot foreign exchange market, the yuan is allowed to rise or fall by 2 percent from the central parity rate each trading day.
The central parity rate of the yuan against the US dollar is based on a weighted average of prices offered by market makers before the opening of the interbank market each business day.
Han Huishi, a veteran foreign exchange analyst, said the low was expected, and how much further the yuan would slip is closely linked to the US dollar index. If the index closes lower than 96.4 on Tuesday, the central parity rate of the yuan will much probably dip below 6.69, he said.
The index climbed above 96.7 in the wake of a military coup in Turkey, which sent the British pound and the euro into steep decline.
The focus for possible central bank regulation would be controlling the clip of depreciation rather than "inducing a weaker yuan" in a bid to shore up confidence in the market, Han said.
The priority of watchdogs is to prevent disarray based on market anticipation of depreciation, which would lead to a surge in foreign exchange purchases, he said.
China, with a GDP growth of 6.7 percent in the second quarter of 2016, is expected to meet its annual growth target, which would ease downward pressure on the yuan, according to FXTM, a currency trader.
The "depreciation trend" in the yuan's value is not going to get out of hand, said Hu Yuexiao, chief economist of Shanghai Securities, adding that the internationalization of the yuan would rule out a plunge in its value.
The exchange rate of the yuan against the US dollar is likely to hover around 6.7 in the next one to three months, Hu predicted.
China's foreign exchange reserves increased by $13.43 billion in June from the previous month to $3.21 trillion, central bank data showed on July 7.