Factory prices fall 1.7 percent from a year ago; expert calls for further monetary policy support
Inflation remained low in July, with a slight drop in factory prices, indicating that economic growth remains weak and the country still needs to relax its monetary policy to help the corporate sector and jazz up economic activity, analysts said.
The consumer price index rose 1.8 percent in July from a year earlier, compared with 1.9 percent in June, according to the National Bureau of Statistics on Tuesday. It matched with the January reading, the lowest this year.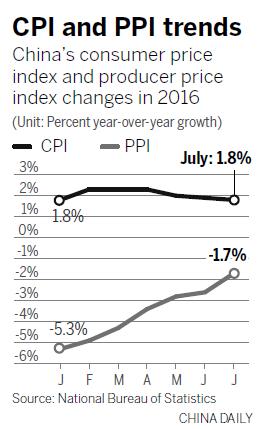 Consumer inflation has remained well below China's target of around 3 percent in 2016, despite concerns that severe summer flooding, which has disrupted public infrastructure and agricultural production, would increase inflationary pressures.
Food prices rose by 3.3 percent in July, compared with 4.6 percent in June. Pork prices rose by 16.1 percent, down sharply from a 30.1 percent increase in June, as demand cooled.
Vegetable prices dropped by 4.3 percent year-on-year in July, indicating that the seasonal floods hitting many parts of the country this summer did not disrupt normal vegetable supplies, said Liu Dongliang, an analyst at China Merchants Bank.
The producer price index, which gauges factory-gate prices, fell 1.7 percent in July year-on-year, compared with a fall of 2.6 percent in June, the NBS said.
Economists generally predicted that the PPI may turn positive this year for the first time in more than four years.
"It could happen by the end of this year and the whole-year PPI reading may be minus 2.4 percent," said Lian Ping, chief economist at Bank of Communications.
Low consumer price inflation allows policymakers some room to loosen monetary policy in order to boost growth, but they seem to be divided over the necessity of taking such a move for fear of further pushing up asset bubbles and causing more debt problems.
"Despite the slight improvement in the price situation, growth-stabilizing policies should continue to be rolled out, given the heavy economic downturn pressure, weak private sector confidence, cooling real estate market and sluggish foreign demand," said Qu Hongbin, chief economist of HSBC Greater China.
The corporate sector still needs the boost from looser monetary policy and there is a growing possibility of a cut in the required reserve ratio, or the proportion of money commercial banks are required to hold as reserves, Liu said.