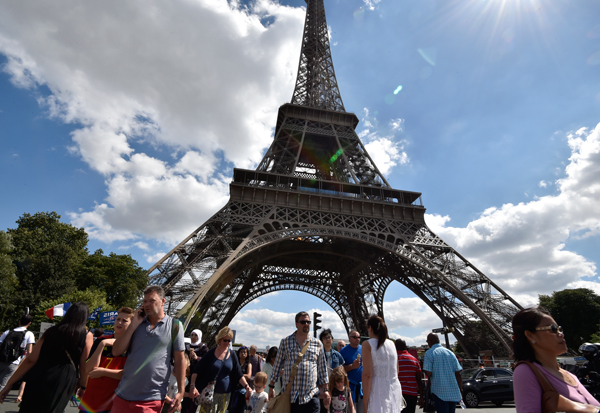 People visit the Eiffel Tower on August 6, 2016 in Paris. [Photo/Agencies]
Terrorist attacks are taking their toll on France's tourism industry, with Paris bearing the brunt of a drop in visits by holidaymakers from outside Europe.
Overnight stays fell about 10 percent on average this year through July, with high-spending travelers from the United States, Asia and the Persian Gulf states reacting strongly to the attacks, French Secretary of State for Tourism Matthias Fekl said in an interview with the Journal du Dimanche on Sunday.
Luxury accommodation was the worst hit, but travelers from Europe haven't canceled their plans, the minister was cited as saying.
Tourism is big business for France, which has been hit hardest among European countries by Islamic State-inspired killings since the start of last year. The murder in July of an elderly priest in Normandy and the Bastille Day massacre in Nice followed assaults last year in Paris-one of the most-visited cities in the world-on concertgoers and a satiric newspaper.
International flight bookings to Nice dropped 57 percent compared with the previous year from the date of the attack to July 23, while planned arrivals this month and in September were down by about one-fifth for France as a whole, according to travel-data specialist ForwardKeys, citing reservation numbers through July 23.
In response to the attacks, President Francois Hollande has extended a state of emergency, sending soldiers to patrol airports and Paris's major tourist attractions. The Eiffel Tower was unnecessarily evacuated on Friday after a security drill went awry, Le Parisien newspaper reported on Sunday, citing the monument's operator. Public transport in the city is suffering regular disruptions as suspicious bags are investigated.
Bloomberg