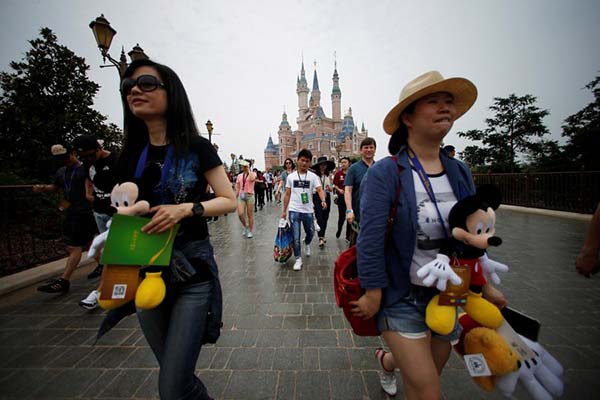 People walk at Shanghai Disney Resort during a three-day Grand Opening event in Shanghai, June 15, 2016.[Photo/Agencies]
As Shanghai Disneyland opened last month, the housing projects adjacent to the park have seen their prices surge, with some likely to reach 80,000 yuan ($11,982) per square meter, Securities Daily says.
When the Shanghai Disneyland project began six years ago, the new home price in Chuansha section, which is only 3km away from the resort, was less than 19,000 yuan per square meter. Now, prices of some projects have reached 50,000 yuan.
In the future, housing prices are likely to touch 80,000 yuan, or even 100,000 yuan, a professional salesperson told the newspaper.
Chuansha section is the nearest and most mature region adjacent to the park, with completed facilities, such as buses, subway, shops, hospitals and schools. Many tourists choose to stay here.
Residential housing projects and hotels have seen a bullish market as investment value of related regions hiked since Shanghai Disneyland opened to the public, together with an overall property recovery in Shanghai, Yan Yuejin, chief of E-house China R&D Institute told the newspaper.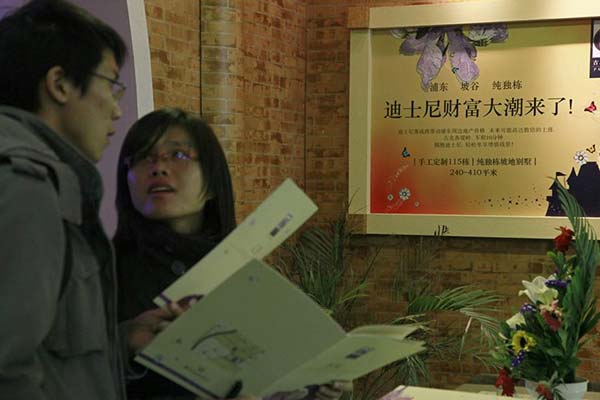 Two visitors at a real estate fair in Shanghai on Dec 6, 2009. The approval for the Disney Resort in Shanghai pushed up housing prices in the surrounding area. [Photo by Yong Kai/Asianewsphoto]
At the sales center of Sunshine Bay, a well-known property project in Chuansha section, a salesperson told the newspaper the whole project has sold out. When it came to prices, apartments sold at 30,000-40,000 yuan, while villas sold for 50,000 yuan.
Although salespersons said some projects have been sold out, but it's hard to say, Yan said. Considering housing prices continue to rise, developers are likely to hold some houses to sell them at a higher price.
Due to high potential for price rises near the resort, a new wave of price increases can be expected in Chuansha section, and the housing price is expected to reach 80,000 yuan per square meter, Yan added.
The $5.5-billion Shanghai Disney Resort, the first on the Chinese mainland and the sixth in the world, opened on June 16. Nearly a million people have visited the theme park since it opened to the public.