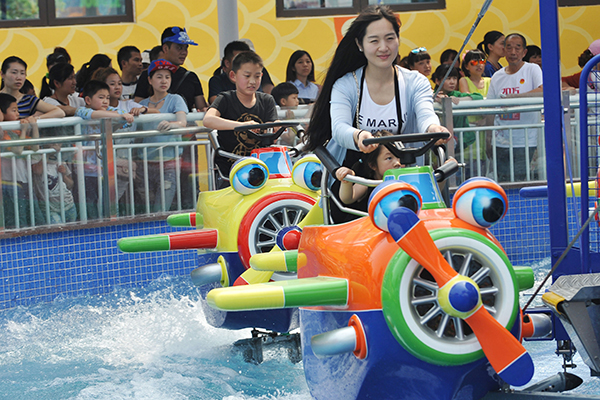 During the Dragon Boat Festival holiday on June 9, travelers have fun at Wuhan Happy Valley, a themed amusement park in Wuhan, Hubei province. [Photo/China Daily]
The theme park business in China saw its biggest event of the year on Thursday when the $5.5-billion Shanghai Disney Resort opened. It is Disney's sixth park worldwide and the largest in Asia, wowing both local and foreign tourists with exotic experiences and Chinese elements.
Tens of thousands streamed into Shanghai Disneyland on its debut, an event that was nearly two decades in the making. The resort is the largest foreign investment ever for the Burbank, California-based company, as it intensifies the race to dominate China's $610-billion tourism industry.
Shi Mi has been to all five Walt Disney Co. theme park resorts around the world. With the latest Disneyland opening in his native Shanghai, he's not going to miss opening day.
"There's a certain romance to it for me," said the 19-year-old college student, who only managed to get a ticket from a friend who works as a travel agent because online tickets were snapped up within minutes of going on sale in March.
Leia Mi, the concept designer for the Shanghai park's castle, said that Disney conducted thorough market research into Chinese preferences. For example, while other Disneylands showcase a castle that guests walk through, the Shanghai park castle was designed with eating and retail space within them to meet Chinese expectations.
The park "plants a stake deeper into the world's largest market" for Disney, said Chief Executive Officer Robert Iger, intensifying the race to dominate China's tourism industry.
"The experience people have when they spend time in our theme parks is immersive. They not only hear and see our stories but they actually enter them, they live in them," said Iger.
The Disney CEO, who has visited Shanghai 35 times so far, said the project is the company's greatest opportunity since Walt Disney bought land in Florida in the 1960s to build the theme park there.
Walt Disney's attractions topped the global rankings for theme parks with an attendance of 137 million people in 2015, followed by Merlin Entertainments with 62 million visits and Universal Studios and Resorts at 44 million visits.
According to the 2015 TEA/AECOM theme park attendance report, the Chinese mainland market has driven almost entirely the 6.9 percent rise in attendance at theme parks in the Asia-Pacific region in 2015.
The primary reason was, many new parks have recently completed their first full year of operations. These included Chiseling Ocean Kingdom that, with 7.5 million attendance, posted a 36 percent growth over 2014 and reached No 4 on the charts.
Thanks to its live theater shows with cultural themes, Songcheng Group saw a 53 percent rise in attendance in 2015. The shows proved popular with tourists. Also, the parks' central locations in Hangzhou, Lijiang and Sanya helped, according to the report.
The report said once Shanghai Disney Resort completes a full year in operation, clarity would emerge on the likely time frame for the Asian parks market to overtake North America's.
It also forecast there will be shifting ownership and consolidation of smaller parks into larger chains as part of the evolving and maturing trend in Asia.
Universal Studios Beijing is under construction and other international players are looking around very actively in China. Operators, local governments and intellectual property companies are all interested in building branded attractions in China, the largest consumer market in the world, according to the report.