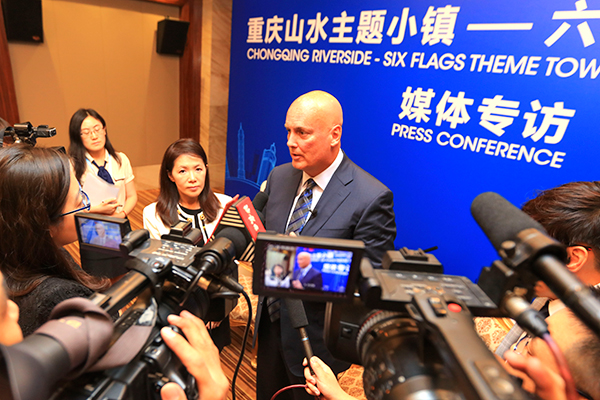 John Duffey, president and CEO of Six Flags Entertainment Group,took interviews in Chongqing, July 21, 2016. [Photo provided to chinadaily.com.cn]
Six Flags Entertainment Group, one of the world's largest cultural entertainment industry operators, on Wednesday announced its plan to build a theme park in Southwest China's Chongqing.
Chongqing Riverside-Six Flags Theme Town Park, with a total estimated investment of 30 billion yuan ($4.48 billion), will be the first international theme park in the west of China.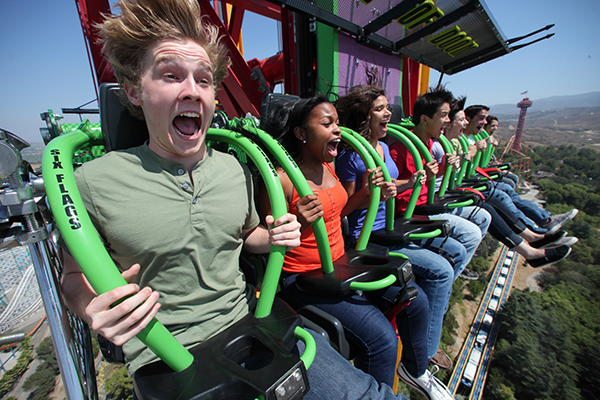 Six Flags theme park in the US. [Photo provided to chinadaily.com.cn]
"The platform for growth here is great and the perfect formula for our industry. There is a significant population, a growing middle class, growing disposable income and a limited theme park presence," said John Duffey, president and CEO of Six Flags Entertainment Group.
Six Flags and Beijing-based Riverside Group, a corporation dedicated to building a comprehensive platform for culture and tourism, on Wednesday signed a framework cooperation agreement with the government of Chongqing Bishan. It is Six Flags' second project in China after its first one in Haiyan, Zhejiang province, whose investment also totaled 30 billion yuan.
Data from the Chinese Tourism Academy show that the total revenue of China's tourism sector was 4 trillion yuan last year, with about 230 billion yuan generated by theme parks. Meanwhile, annual visitor numbers to theme parks nationwide are also forecast to hit 282 million in 2019, more than double the figure in 2014, says Euromonitor International.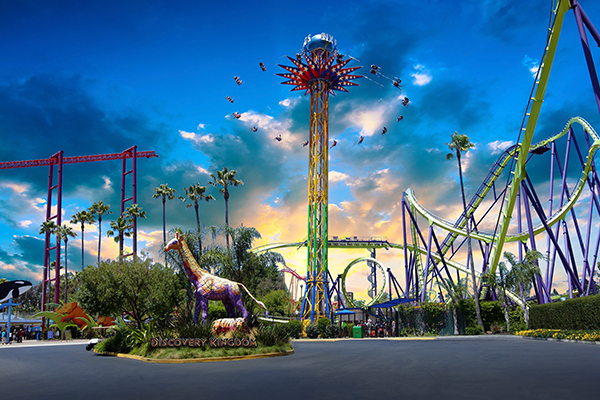 Six Flags theme park in the US. [Photo provided to chinadaily.com.cn]
According to Duffey, there is ample room for many companies to participate in the market, given the minimal number of theme parks in China.
"The attractions Six Flags offers are quite different from Disney—we both offer many types of unique rides and attractions, but Six Flags is known for its record-breaking coasters and breathtaking thrills for guests of all ages," said Duffey. "Having multiple players build theme parks in China will help the overall industry grow and provide multiple entertainment options for local families and teens."
Chen Shi, assistant general manager of TFTR Investment Co Ltd, which holds interests in amusement parks, said that there is a structural imbalance in the industry in China. "Only those that really meet the market demand can have steady cash flow," he said. "Services as well as intellectual property are core to being competitive."
Parks with light assets, quality services, mature IP, innovative facilities and lots of interaction with visitors can stand out among the fierce competition, Chen said, adding that with China's soaring demand for leisure and travel he is optimistic about the market potential for theme parks.
Chinese consumer spending reached the highest level in the first quarter of this year, despite the country's economic slowdown, according to a May 31 report by market researcher Nielsen.