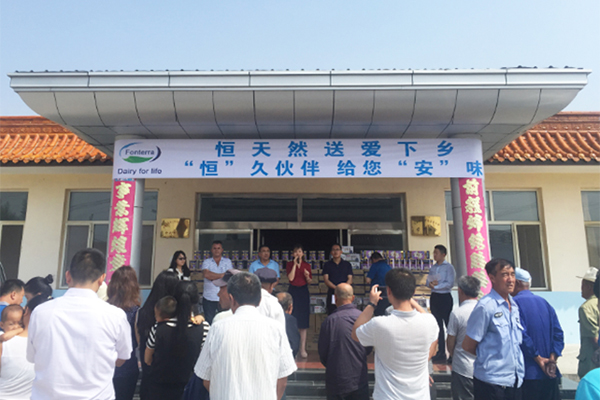 Fonterra's charitable event in Ying County, Shanxi province was well received. [Photo provided to chinadaily.com.cn]
Fonterra sends love to the countryside: donation of dairy products well received in Ying county, Shanxi province
Fonterra Co-operative Group, a leader in global dairy nutrition and the world's largest exporter of dairy products, held a donation ceremony as part of a charitable initiative called 'Fonterra sends love to the countryside' in Ying county, Shanxi province today. As part of this event, Fonterra donated its Anmum and Anchor dairy products to hundreds of villagers from Nanhezhong town and Xingzhai town in Ying county. Among those in attendance to witness the donations were: Min Qin, vice-president of External Affairs and Communications for Fonterra Greater China; representatives from Fonterra International Farming; Zhaobin, deputy-director of Public Projects Division of Fund Department of the China Soong Qing Ling Foundation; Wang Zhenxing, deputy county mayor of Ying county of Shuozhou city in Shanxi province, as well as leaders and village representatives from both towns.
Fonterra's second farm hub in China is located in Ying county, Shanxi province. Since beginning operations in 2013, the farm hub has actively recruited local employees and worked closely with the community. At present, there are approximately 17,000 cows on the hub's farms, where roughly 180 million litres of milk is produced each year. During the construction and development of the farm hub, Fonterra learned that the nutrition and health levels of the local villagers were comparatively low and that the intake of dairy products for children, pregnant women and the elderly was inadequate. Fonterra decided to help improve the situation and started making arrangements to donate 200,000 yuan worth of Anmum infant formula milk, Anmum Materna, Anchor milk and Anchor kids milk to infants and young children aged 0-3 years, pregnant women and those over the age of 70 in six local villages such as Dasuiren and Daxitou.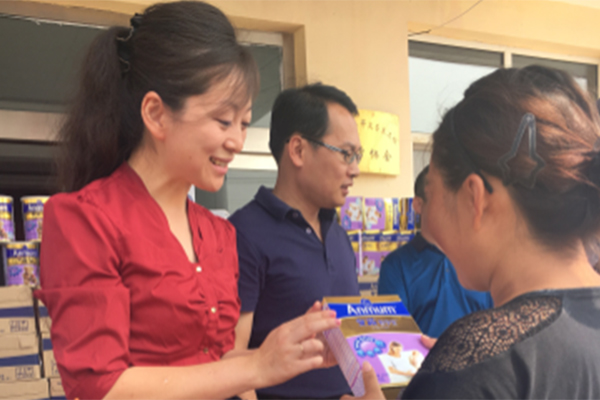 Min Qin, vice-president of External Affairs and Communications of Fonterra Greater China, travelled to Shanxi province to assist with the donations. [Photo provided to chinadaily.com.cn]
At the donation ceremony, Min Qin said "Fonterra is a New Zealand company, but we are in markets all over the world. No matter where we do business, we attach great importance to sharing prosperity with local communities. Since we have built the farm hubs in rural areas of China, the villagers around the hub are our neighbours and partners. It is a fundamental purpose of ours to promote community development and therefore we are always striving to make a positive contribution. Whether by providing job opportunities or facilitating business cooperation, we are committed to partnering with locals. In addition, we also wish to make a tangible contribution to the quality of life of children, pregnant women and the elderly with modest efforts such as product donations."
Fonterra has always prioritized corporate social responsibility and strives to contribute to society and the local community. As another example, Fonterra - together with the China Soong Qing Ling Foundation - founded the 'Fonterra Countryside Maternal and Child Health Program' to carry out various activities which have benefited millions of rural citizens. From 2013 to 2016, this program oversaw the donation of three ambulances and more than 500,000 yuan worth of community support to the Ying county family planning maternal and child service center, Hexie Hospital of Ying county and the Disabled Rehabilitation Center of Hexie Hospital in Shanxi province. Moreover, Fonterra has trained dairy farmers in China in recent years, with 1,200 farmers from Shanxi province given the opportunity to improve their knowledge and skillset.
"Through its farm hub, Fonterra is the first exclusively foreign-owned enterprise to operate in Shanxi province," said Wang Zhenxing, the Deputy Mayor of Ying county. "Since Fonterra's arrival in Ying county, cow breeding technologies and concepts in Shanxi province have greatly improved. Fonterra is an enterprise with a caring heart and a sense of social responsibility. We wish to thank Fonterra for its efforts in contributing to the development of Ying county. Fonterra is a good neighbour to citizens of Ying county."