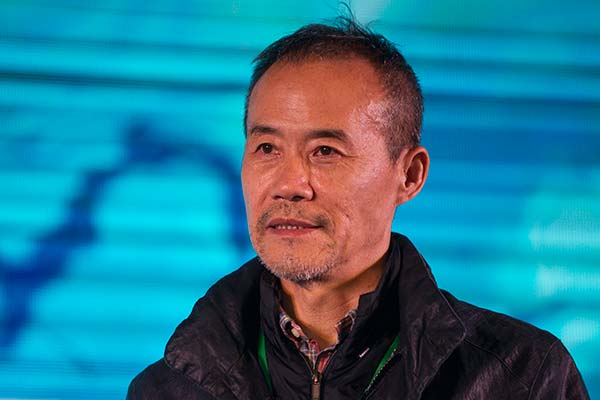 Wang Shi, chairman of China Vanke Co, attends the SEE Foundation World Water Day Forum at Guangzhou Tower on March 22, 2016 in Guangzhou, China.[Photo/VCG]
China Vanke Co Ltd, the country's largest residential developer, and its partners are planning to acquire a commercial property unit from US firm Blackstone Group LP, triggering speculation about whether the move is linked with the current power struggle within the developer.
In a filing to the Hong Kong Stock Exchange on Monday, the developer said that it and its partners have agreed to set up an acquisition fund to acquire 96.55 percent stake of a commercial property company affiliated with Blackstone at a price of 12.87 billion yuan ($1.92 billion).
Vanke will contribute 3.89 billion yuan to the acquisition and no securities will be issued to fund the deal, according to the statement.
While the deal has gained approval from the board of directors, the developer said it has not entered into any legally binding agreement with the involved parties. It did not identify its partners either.
The announcement of the deal came amid the corporate power struggle between its largest shareholder Baoneng Group, a private insurer, and its management team led by its founder and Chairman Wang Shi. Their confrontation has put the company in the spotlight since last year.
Some speculated that the deal may be leveraged by the management team to prevent its founder and Chairman Wang from losing control of the company.
Vanke said in the statement that the deal with Blackstone is aimed at strengthening the company's operations and management capability for commercial properties.
Gao Jianfeng, a property analyst at Nomura Securities in Hong Kong, said that there may not be any direct connection between the deal and the corporate power struggle within Vanke.
"The transaction looks like a normal one judging from the available information. It is in line with Vanke's business strategy," Gao said.
Both Blackstone and Vanke did not immediately reply to the request for comment.
Vanke's A shares declined 0.82 percent on Tuesday to close at 18.12 yuan. The decline extended total losses to 25 percent since its stock resumed trading last week after a six-month suspension.
The deal with Blackstone first attracted attention after an independent board member of Vanke abstained from a key vote, citing conflict of interest on an asset restructuring plan with subway builder Shenzhen Metro Group.
The plan will allow Vanke to acquire assets from the latter through new share issuance and will make Shenzhen Metro the largest shareholder of the developer.
The deal has faced strong opposition from Baoneng Group and State-owned conglomerate China Resources (Holdings) Co Ltd, the second-largest shareholder of Vanke, as it will significantly dilute its shareholding.