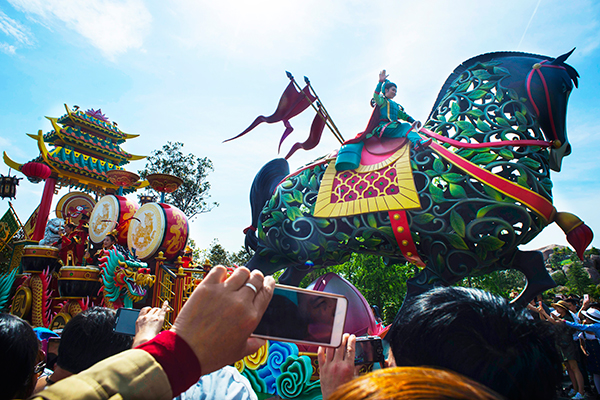 Visitors take pictures using mobile phones while a performer dressed as a Chinese traditional nomadic hero joins a parade of floats at Shanghai Disney Resort. [Photo provided to China Daily]
For the first time, Timon and Pumbaa, two best friends of the Lion King's main character Simba, spoke in Mandarin recently, that too in a dialect used in China's northeastern provinces whose intonation is viewed as funny by the rest of the country.
In the first Mandarin production of the Disney's landmark musical which opened on June 16 at the Walt Disney Grand Theatre at Shanghai Disney Resort, Timon even dressed up and sang in Chinese Peking Opera to a full house and evoked peals of laughter.
In the entertainment shows presented at the Shanghai Disney Resort, a group of acrobats from Wuhan, capital of Central China's Hubei province, performed daily in Disney's enchanting musical "Tarzan: Call of the Jungle". The 30-minute show with Mandarin lyrics, adapted by Chinese choreographer Li Xining, has included dozens of Chinese acrobatic skills. Similarly, dining at the resort is designed to appeal to Chinese appetites and reflect the diversity of flavors in the country. Some 70 percent of the food is from Chinese cuisine, 20 percent Asian and 10 percent Western. Visitors will find noodles with braised pork, Mongolian beef and Kong Bo chicken as well as Peking Duck pizza on menus throughout the park.
The blend of Disney magic and China's cultural spirit is what Disney chairman Bob Iger refers to as "authentically Disney and distinctly Chinese", and it is the guiding principle of Shanghai Disney Resort.
That is visible in classic Chinese designs as well, from Wandering Moon Teahouse in Shanghai Disneyland to the Shikumen architectural features in Disneytown and original Chinese fonts for themed signage. It is perceptible in experiences, including celebrations of seasonal festivals and stage shows which incorporate Chinese language, performers, theatrics and acrobatics.
It is even found in the lush green environment, which encompasses the overall resort, including a variety of exotic trees and shrubs from across China.
Since the groundbreaking in 2011, Walt Disney Imagineering Shanghai, the creative force that imagined and built Shanghai Disney Resort, sought out local talent and hired renowned Chinese designers, engineers, artists and cultural advisors to join their ranks, according to Disney. Other Disney cast members hired local experts to work as advisors alongside them.
Here are some highlights:
Chinese regional flavors are presented with distinctive styles, using a range of ingredients and techniques. Dishes include grilled squid with Shanghai fried rice at Barbossa's Bounty and Mike Wazowski (from Disney Pixar hit movie Monsters, Inc.) and steamed buns at Remy's Patisserie.
Wandering Moon Teahouse offers an all-Chinese menu with a show kitchen where guests will see the signature shaomai dumplings being made. The building recreates authentic Chinese architecture and reflects the beauty of China's diverse landscapes-the mountains, ocean, deserts, forests and rivers.
In Fantasyland, Voyage to the Crystal Grotto features some beloved characters from classic Disney animated films, including Mulan. She appears in her Chinese-themed environment, including a Chinese tea terrace, rock garden and pagoda.
On the Seven Dwarfs Mine Train, the song "Heigh-Ho" is in Mandarin, recorded especially for the attraction.
In Gardens of Imagination, the Garden of the Twelve Friends contain 12 large, mosaic murals that reimagine Disney and Disney Pixar characters as the 12 signs of the Chinese Zodiac.
In Adventure Isle, Soaring Over the Horizon takes guests on an aerial tour of the world, soaring over iconic landmarks that include a view of the Shanghai skyline and the Great Wall of China.
Families and friends may join Donald Duck and Chip 'n' Dale to practise balance and harmony in the fun-filled Tai Chi with Character, an interactive character experience in the Gardens of Imagination's Melody Garden.