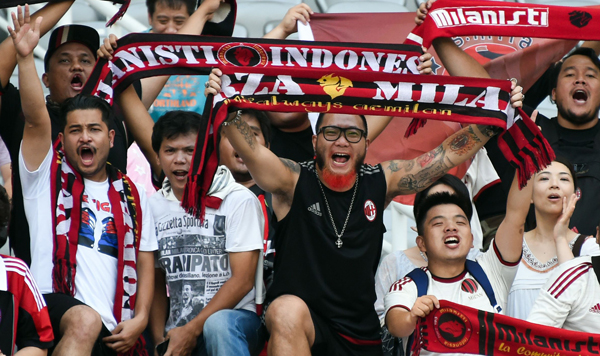 AC Milan's supporters cheer during a training session on the eve of the International Champions Cup football match between AC Milan and Real Madrid in Shanghai on July 29, 2015. AFP PHOTO / JOHANNES EISELE
GUANGZHOU - Chinese Super League club Guangzhou Evergrande has rejected reports that it is involved in the acquisition of Italian Serie A giants AC Milan.
"Those reports are sheer rumors, I've never heard of any plan to buy any foreign football club," a top Evergrande official told Xinhua on Friday.
AC Milan are currently controlled by Silvio Berlusconi, Italy's former prime minister.
Italian media reported on Thursday that Berlusconi had already agreed a deal worth 750 million euro with a group of Chinese investors led by Baidu CEO Robin Li and "leader of Evergrande group".
"Actually, I am not surprised at this kind of news. We've got used to it," the official said on condition of anonymity.
"We have been linked with at least a dozen of companies since last year.
"Chinese companies have been very active in the world football industry, and Evergrande is a familiar company to foreign media, so we frequently made headlines," he added.
The Guangzhou Evergrande Taobao club, currently owned by Evergrande group and E-commerce giant Alibaba, has been a strategic partner of AC Milan since December 2012.
Meanwhile, Baidu could not be reached for comment immediately.
Chinese companies have been showing a growing interest in soccer since the country unveiled a reform plan last year that aims to make China a major power in the game.
Last month, China's retail giant Suning Group acquired 70 percent stake in Inter Milan, a deal worth 270 million euros.
China's Desports spent 37 million euros to complete the acquisition of 98 percent stake in Spanish top-flight side Granada.
Last year, listed company Rastar purchased a major stake in Spanish club Espanyol, and Chinese entrepreneurs have already acquired minority stakes in England's Manchester City and Spain's Athletic Madrid as well.