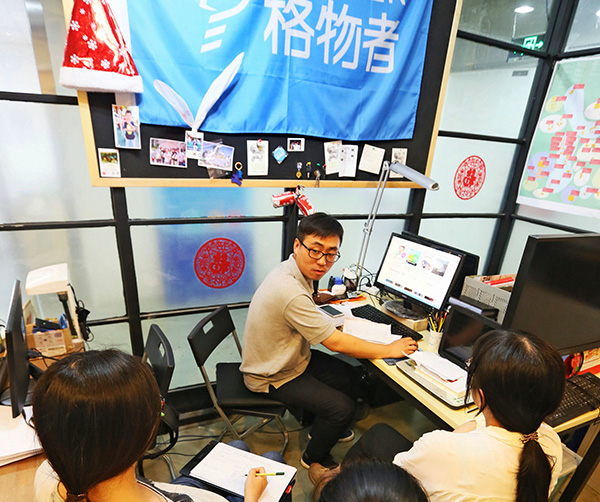 Staff at a startup company discuss their research work at Zhongguancun startup street, which has incubated more than 700 start-up firms in the past two years. [A JING / FOR CHINA DAILY]
The coffee shops, internet cafes and startup incubators in the Zhongguancun area of northwestern Beijing are packed with young and aspiring entrepreneurs. The atmosphere feels like the next Silicon Valley. But there are lots of attempts around the world to imitate the innovation nexus of northern California, why has Zhongguancun succeeded where so many others have failed?
One factor in the success of Silicon Valley and the much smaller Route 128 around Boston, is the presence of world-class technical universities.
Zhongguancun is centered around Tsinghua and Peking universities, which are often called China's MIT and Harvard, respectively. But, the nearby area may also be the biggest concentration of universities in the world.
By my count, there are at least 15, many of them technical. Obviously, Beijing companies have to search for and compete for technical talent, but the universities do ensure a good supply.
The relative affordability of technical labor also allows startup companies to survive long enough to build their businesses. According to my discussions with Zhongguancun entrepreneurs, typical salaries for qualified engineers range from 8,000 yuan ($1,200) to 15,000 yuan per month.
Even newly graduated engineers with bachelor's degrees in Silicon Valley are paid upward of $10,000 per month. So, the Beijing firms are under a bit less pressure to get revenue early.
But, technical talent is not enough to build an innovation center. Startup companies also depend upon financing at all stages of the company's life and on having customers for their products.
Zhongguancun's software startups target the huge China market, especially for mobile Apps. According to App Annie analytics, revenue from App sales in China will reach $11.8 billion equivalent in 2016, exceeding the United States. Chinese companies are able to access and understand the local demands of this market in ways that foreign software companies cannot, so they don't see themselves as competing directly with US firms.
China's ongoing healthcare reform is a special opportunity for Zhongguancun firms, which are now exploring technologies and business models. The government, at all levels, is implementing an expansion of basic healthcare insurance to all citizens and is also investing heavily in medical facilities.
According to marketwatch.com, China's total healthcare spending doubled from $254 billion in 2009 to $590 billion in 2014 and is planned to at least double again by 2020.Digital health technology, particularly for dealing with chronic diseases such as diabetes and high blood pressure, may provide a leapfrog opportunity for China to provide better care at a lower cost.
A big advantage for Zhongguancun software companies, which no innovators outside China can match, is easy access and deep ties to hardware companies, especially the manufacturing clusters in Guangdong province in southern China.
Working closely with those companies, Chinese software companies have the opportunity to lead in the development of Apps that process real-time big data from phones and wearables.
According to KPMG, China's venture capital investment peaked in the third quarter of 2015 at about $10 billion, slightly less than Silicon Valley's $12.2 billion, amounting to one-quarter of total global VC spending. However, since Chinese firms have lower labor and real estate costs, VC spending might go much further.
Government-financed funds, which are partly managed by provincial and local governments, provide infrastructure and are also being used in Zhongguancun to provide loans and contracts to promising startups.
Generous government funding may not be sound like a "market" solution. But, it was the key source of revenue in Silicon Valley in the 1960s and 1970s. Today, the US government uses contracts and government-funded VC firms, such as In-Q-Tel, to support promising tech startups.
Zhongguancun faces competition-not least from other technical business centers in China. But, its combination of university provided tech talent, lower costs, unique market opportunities, large VC funding, and needed government support means it has a very real opportunity to be one of the few innovation ecosystems that can rival Silicon Valley.