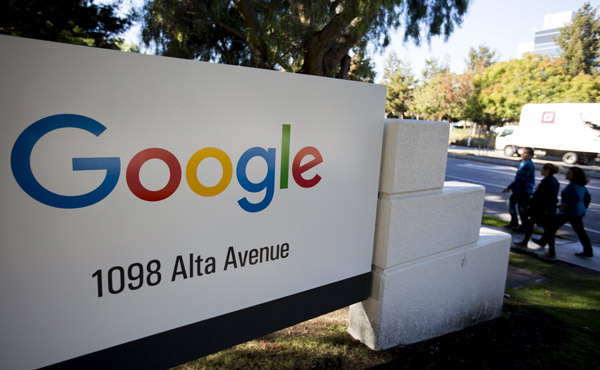 The new Google logo is seen at the Google headquarters in Mountain View, California, Nov 13, 2015.[Photo/Agencies]
The European Union is bolstering its original antitrust investigation into Google Inc's search engine as regulators asked the company's critics to declassify details of meetings and e-mail exchanges related to the probe, according to people familiar with the case.
That's typically a final step before the EU files an antitrust complaint, meaning Google could have to defend itself against a supplementary statement of objections over its shopping-search service.
Officials frequently ask companies for permission to use confidential information before they send out a so-called statement of objections, said the two people, who asked not to be named because the case is not public.
The EU has expanded its investigations into Google's business practices since Margrethe Vestager took over as the bloc's antitrust chief in late 2014. It's opened probes into Google's Android mobile operating system, filing a formal complaint in April, and people familiar with the inquiry into advertising services said on Monday that the regulator is taking steps toward a statement of objections in that matter, too.
The European Commission declined to comment. Google didn't immediately respond to a request for comment.
A new statement of objections may delay a final EU ruling on search services until next year at the earliest. The EU has been slow to move forward with its first case into Alphabet Inc's Google unit. Vestagerhas said regulators were wading through "truckloads of data" to counter the company's arguments.
Kate Sutton of UK mapping service Streetmap said in a Facebook post on Monday that the EU had asked her to approve adding a mention of an October 2015 meeting with investigators to their file.