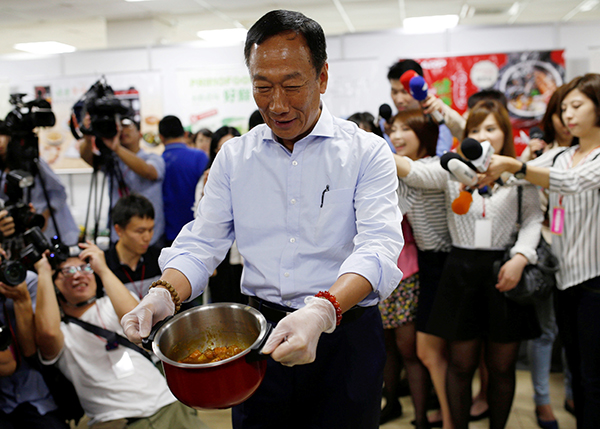 Terry Gou, chairman of Foxconn Technology Group, shows food cooked with a water oven at a Sharp showroom in New Taipei City on Wednesday. [Photo/Agencies]
Foxconn Technology Group plans to close costly and redundant overseas operations of its new acquisition Sharp Corp, and bring to the market products using Sharp's valuable patents and technology as quickly as possible, said the chief of the world's largest electronics manufacturer.
Terry Gou, who founded Hon Hai Precision Industry Co Ltd, the formal name of Foxconn, made the comments on Wednesday at his company's first annual general meeting since announcing the purchase of two-thirds of the money-losing Japanese display maker for $3.5 billion.
Gou said all legal procedures for the acquisition will be completed this month, and that new management will take charge of Sharp on July 1.
"We will start overseas," Gou said of restructuring Sharp. "Those improper, high-cost joint ventures overseas, we will close them to reduce a lot of the operational cost, which will lead to lower (product) sales prices."
The comments come as Foxconn seeks to build on Sharp's technology and branding to strengthen its pricing power with major client Apple Inc.
For Sharp, the takeover is a lifeline at a time when Japan's technology companies, once synonymous with cutting-edge electronics, are being out-manoeuvred by upstart Asian rivals.
Gou said speeding up the transformation of Sharp's patents into technologies that yield commercially viable products will be part of the initial restructuring, as will a metrics-based review of all Sharp staff.
In May, Foxconn told Sharp employees that layoffs were a must and would be carried out "responsibly and sensitively".
A person familiar with the matter said at the time that the cuts could total 3,000 in Japan, and more when Sharp's global operations are included.
Gou also said Foxconn sees growth potential in Sharp's home appliances business. He said Foxconn would work to expand sales channels in the United States and that his company is discussing the matter with a major US wholesaler.
Foxconn will also work to rebuild Sharp's semiconductor business, an area where Sharp once held many patents but sold some to plough resources into display technology, Gou said.