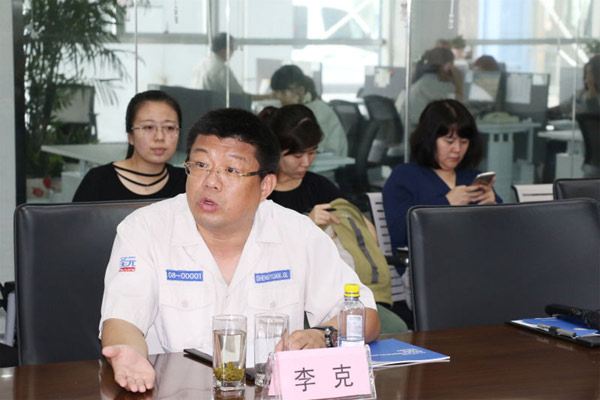 Li Ke, general manager of Synutra International, speaks to the media in Qingdao, Shandong province on June 21, 2016. [Photo/chinadaily.com.cn]
The processing equipments and methods of China's dairy product companies are world-class, but the companies still lack trust among domestic consumers, according to an industry insider on Tuesday.
"China's dairy product companies have developed to a 'Louis Vuitton' level in the world dairy product industry in terms of processing equipment and methods", said Li Ke , general manager of Synutra International, a leading infant formula company in China.
The country's baby formula market is estimated to be worth 65.7 billion yuan ($10 billion) this year and is forecast to rise to 133.7 billion yuan by 2020, according to an earlier report citing Euromonitor International.
However, China's public trust of its domestic dairy industry has been quite fragile since 2008, when infant formula produced by Sanlu Group, a leading domestic dairy firm, was found to contain melamine, said Li during a meeting with the media on Tuesday.
In that scandal, six Chinese infants died and tens of thousands were hospitalized after drinking domestically produced milk powder contaminated by melamine.
At present, even a tiny flaw in any domestic dairy firm, such as a small mistake on a product tag, could be unreasonably magnified by sensitive consumers as a fault of the whole industry, with the result of degrading the whole domestic industry, according to Li.
In fact, China is tightening its supervision of baby formula. The food safety watchdog has issued a regulation, which will take effect this October, to do so. Both domestic and overseas baby formula producers must register and secure permits from the China Food and Drug Administration if they want to sell their products in China.
In April, police arrested nine people implicated in the production and sale of fake baby formula for the brands "Similac" and "Beingmate".
However, the industry still has a long way to go to regain public trust. The Chinese dairy industry needs the "spirit of the craftsmanship" and to train more professionals to safeguard food safety and provide better products, said Li Shengli, a professor at China Agriculture University and director of Sino-Dutch Dairy Development Center, in March.
Now, the industry should not focus so much on the number of producers, but instead ensure that the threshold of industry access is high enough to guarantee quality, said Li Ke.