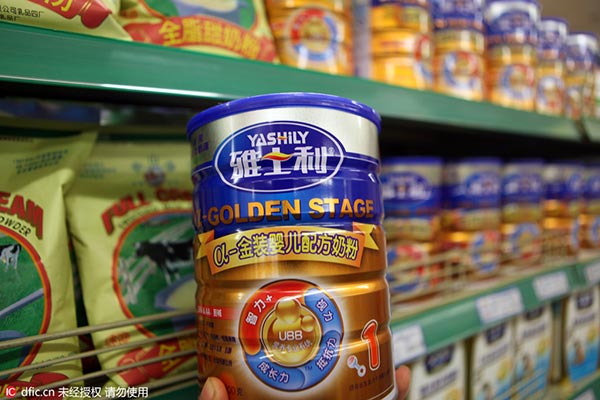 A customer shops for a tin of Yashili baby formula at a supermarket in Rizhao city, East China's Shandong province, 14 April 2014.[Photo/IC]
WELLINGTON - Chinese dairy giant Yashili launched its New Zealand-made infant formula on the local market Thursday as the first step towards establishing a global brand.
Yashili said the infant formula, which hit the shelves of North Island supermarkets, was specially designed for the New Zealand market, manufactured and packaged at its state-of-the-art plant which opened in Pokeno, south of Auckland in November 2015.
Yashili's emphasis had been its commitment to product innovation for its formula product, Yashili New Zealand general manager William Zhao said in a statement.
Each can of formula had a unique QR code allowing buyers to track its provenance and the production process by scanning the code with their smart phone.
The launch was another step towards Mengniu-Yashili's globalization, said Zhao.
Distributing the product locally demonstrated Yashili's long-term strategy through its investment of NZ$220 million ($153.18 million) in the Pokeno plant.
Yashili New Zealand had an annual production capacity of 52,000 tons and employs 96 staff.
Yashili New Zealand was founded in July 2012 and the plant was the first autonomous overseas factory for the Chinese dairy industry.