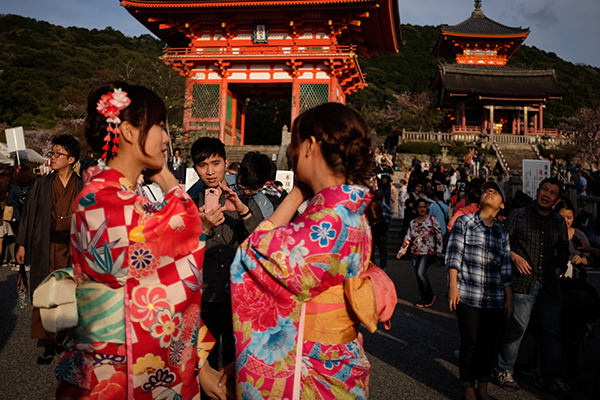 Chinese travelers have fun in Kyoto, Japan. [Photo/China Daily]
She said boutique tours and in-depth short-term travel products with a focus on children's interests are well received among Chinese travelers. Summer camps in the US, the United Kingdom and Canada are much sought after. Parents also prefer Singapore and Malaysia as they involve short (six-hour) flights.
Two factors are key to outbound Chinese tourists who double up as consumers abroad.
One, the widening price gap between imported goods in China, which are perceived as superior, and the same products bought abroad. So, Chinese travelers tend to buy a lot at duty-free shops during their trips as this works out cheaper than buying imported goods in China, which are subject to high taxes and hence expensive.
Two, Chinese consumers' low confidence in domestic brands, which experts blame on poor supervision of quality, especially of baby-and-mom goods like infant formula and maternity products, medicines, health supplements, even personal hygiene items.
The travel-and-shop phenomenon is consistent with the broad global trend of the past five years.