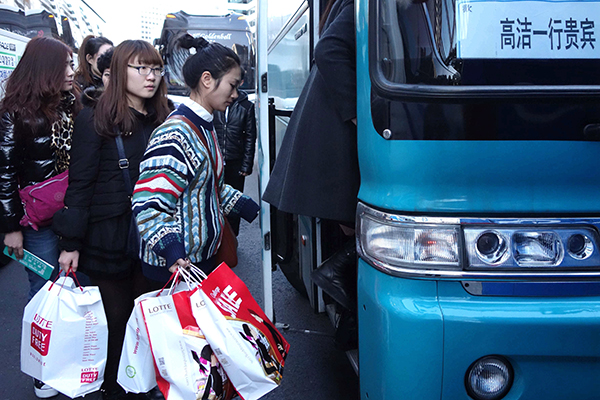 Chinese travelers have fun in Seoul, South Korea. [Photo/China Daily]
Agreed executives at top travel agencies.
"The biggest cost in US trips are flights. Prices of most of our travel products were announced six months ago. Recent exchange rate fluctuations have not caused much change in prices," said the public relations department of Ctrip.com International Ltd, China's largest online travel agency.
On Ctrip, the average price of a trip to the US from China works out to about 20,000 yuan ($3,070) per person.
Like Ctrip, Beijing Utour International Travel Service Co Ltd fixes the yuan prices of its travel products much in advance, sometimes two years beforehand. "The yuan's recent depreciation won't get reflected in our prices," said Li Mengran, its publicity manager. "But (Chinese) tourists' purchasing power may weaken a bit when they visit US malls."
A Chinese tourist, she said, may have to fork out 650 yuan this year for a bag that might have sold for 600 yuan last year.
More than half of Utour's proposed summer trips to the US have been sold already, and are expected to be as popular as those in previous years.