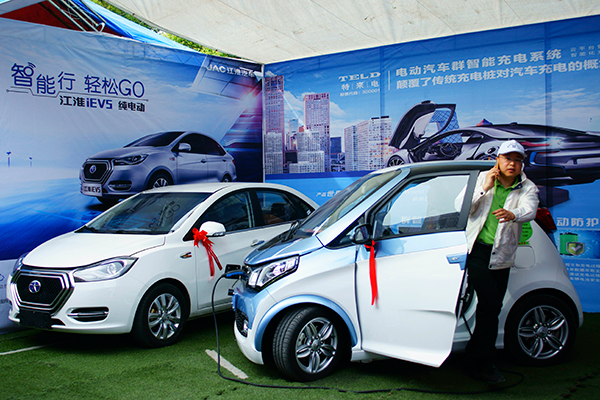 New-energy cars are displayed at an auto show in Yichang, Hubei province. Sales of cars with engines smaller than 1.6 liters boosted China's overall auto sales in May, while new-energy vehicles continued to be popular. [Photo/China Daily]
CAAM lobbies to make nation's tax policy on small engine vehicles permanent
China's car market may be performing better than the country's leading auto organization expected.
May saw the highest monthly growth year-on-year, with 2.09 million cars sold, a 9.8 percent rise from the same period last year, according to the China Association of Automobile Manufacturers' statistics.
The sales pushed the number of cars sold through the first five months of this year to 10.75 million units, up 7 percent year-on-year.
The performance exceeds the CAAM's expectations, said Chen Shihua, vice-secretary general of the association, at a regular news conference on June 14.
The association estimated the growth rate this year to reach about 6 percent, but Chen said there are no plans to revise estimates.
Chen said the May performance was mainly due to sales of passenger cars. Nearly 1.8 million units were sold that month, up 11.3 percent year-on-year. From January to May, 9.25 million units were sold, a 7.8 percent growth year-on-year, higher than the overall growth rate of 7 percent.
Cars with engines smaller than 1.6 liters were the main driving force. In May, 1.28 million such cars were sold, 71.6 percent of the total passenger cars in the month, thanks to China's favorable policy on small engine cars.
The policy, released in September and expected to expire by the end of this year, halves the purchase tax on such cars, which is in most cases 10 percent of a car's sticker price.
Ye Shengji, another CAAM vice-secretary general, said the organization is lobbying the government to make the policy permanent, adding that the auto industry plays an important role in stimulating the Chinese economy.
"It is essential that we make it a long-term policy as it not only boosts car sales but also helps guide industry trends."
Chinese brands
In May, 717,000 cars from Chinese brands were sold, an increase of nearly 13 percent from the same period last year.
Sales of sedans dropped 8.2 percent, while sales of MPVs surged 32 percent. The popularity of SUVs continued, with sales up more than 40 percent.
Despite the boom, Chinese SUVs are losing ground to international rivals.
In May, only three out of the top 10 bestselling SUVs were from Chinese automakers. At its peak, 9 out of 10 were Chinese brands last year.
Ye said this is the result of increasingly fierce competition in the segment, with many international brands introducing new models and slashing prices.
Volkswagen said it will introduce five to six more SUVs in China over the next three years. GM and its partners plan to unveil around 24 SUVs and MPVs by the end of 2020, said GM China President Matt Tsien earlier this year.
New-energy vehicles are keeping their momentum. In May, 35,000 units were sold, a 128 percent surge yearon-year, with purely electric vehicles accounting for 76 percent of that total.
Through the first five months of this year, 126,000 new-energy vehicles were sold, up 134 percent from the same period last year.
Traffic authorities in Beijing said nearly half of the city's license plate quota for electric cars for 2016 was filled by the end of April, indicating a growing acceptance of new-energy vehicles.
Their popularity may grow further as China rolls out more strict emissions standards to combat pollution.
Xu Yanhua, another vice-secretary general of the CAAM, said the national VI standards would be released by the end of this year and implemented nationwide by 2020.
The V standards were implemented in April for 11 provinces and municipalities in East China but will not take effect across the country until 2018.