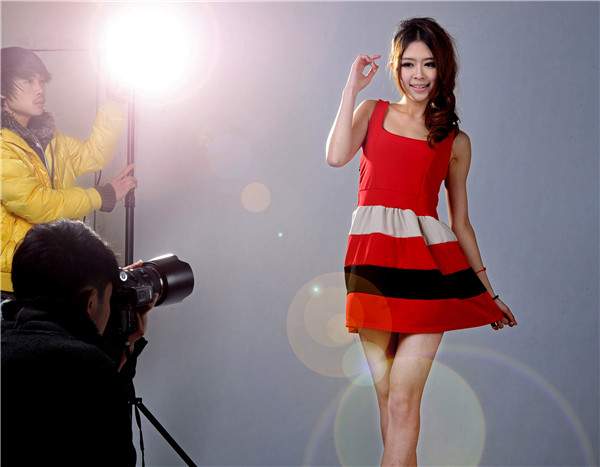 An e-shop model poses for photographers at an online clothing firm's show.HAN YOU/CHINA DAILY
Spanish fashion giant Zara launches a whopping 12,000 or more new designs a year. But wait, what the world sees as a humongous output may be small change for Handu.com, a Chinese online clothing retailer founded in 2006.
Handu launched more than 30,000 designs in 2015.
The Shandong-based e-commerce company, which has seen its annual sales surge from 3 million yuan ($458,100) in 2008 to 1.26 billion yuan in 2015, is a living legend, so to speak, in China's online shopping world.
From fashion-conscious teenage girls to discerning women in their 50s, all love to shop on Handu.
But it is in no tearing hurry to emerge as Asia's Zara. It is not desperate to boost its online clothing sales to record highs. Instead, it wants to empower up-and-coming e-commerce startups so they could be as successful as itself.
"We have repositioned ourselves to be China's largest builder of internet brands. This strategy is a new chapter in our evolution as a business," said Jia Peng, deputy manager of Handu.
That's not all. It has recently applied for a listing on China's New Third Board or the National Equities Exchange and Quotations. It wants to use the proceeds to fund its ambitious plan.
"Small brands have entered a golden era of rapid development. People are looking for things that can differentiate themselves from others, be it in segments like clothes, accessories, perfumes or body lotions," said Jia.
"It used to be very difficult for bricks-and-mortar stores to sell products to a niche market. A store can usually cover a small area. Sales would get hurt if it came to rely only on a particular group of consumers," he said.
But e-commerce has made it possible to transcend geographical limitations.
Jia, who is in charge of building Ebrandpark, an internet startup incubator under Handu, said the goal is to nurture 50 internet brands that can notch up annual sales of tens of millions yuan each.
"After 10 years of cultivating internet brands ourselves, we have gathered a lot of experience. Our valuable experience can energize startups and help them achieve quick growth," he said.
According to Jia, Handu is very good at targeting niche markets and building brands. The company operates more than 30 clothing brands. Each of its brands has its own detailed formula to communicate with customers online in a particular tone of voice.
"We also have a very strong and sophisticated logistics and warehousing solution that can handle 500,000 parcels a day. We invested in that because we're aware spending an extra second each on packing, say, 500,000 orders, could mean you need about six extra days to finish the dispatch process," he said.
Handu has also built up a very strong supply chain, which can produce clothes within 10 days of receiving orders online.
"Rather than making more money by nurturing emerging brands in our own stable, we hope this new model could help us find the next big thing in internet and, in turn, make us stronger in the rapidly changing e-commerce world," he said.