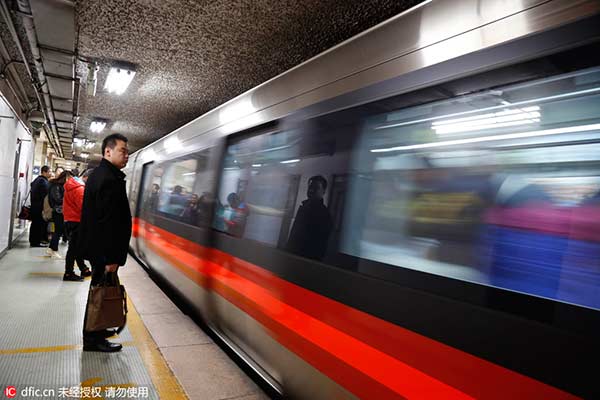 A man waits for subway trains in Beijing on Nov 14, 2014. [Photo/IC]
China is mulling to lower the threshold for cities applying for urban rail transport construction, a move that analysts say may draw more than one trillion yuan investment while bolstering the ailing economic growth.
Cities with a population of less than 3 million, but over 1.5 million, are now likely to get green-lighted to start building urban rails in the next few years, the Economic Information Daily reported on Monday, citing authorities.
Currently, only cities with over 3 million residents, whose fiscal revenue could reach 10 billion yuan ($1.53 billion) and GDP hit 100 billion yuan, are qualified for building a rail transit system.
The country has been beefing up infrastructure construction to boost economic vitality amid a tough ongoing transformation that brought its GDP growth down to 25-year low of 6.9 percent last year.
An action plan, issued earlier by China's top economic planner National Reform and Development Commission together with the Ministry of Transport, noted that total investments on transportation by 2018 will reach 4.7 trillion yuan - about 34 percent will go to new urban rails.
Expansion of urban rail transport to smaller cities will add up to the investment as that in large cities start to saturate, the newspaper cited Liu Yuanchun, director of National Academy of Development and Strategy at Renmin University of China.
Light rail construction will not only help ease traffic jams, but more importantly drive the development of a long industrial chain, said Industrial Securities.
Private capital is encouraged to join government investments in those rail projects, but "local governments should be wary of financing risks during the process", said Liu of Renmin University.