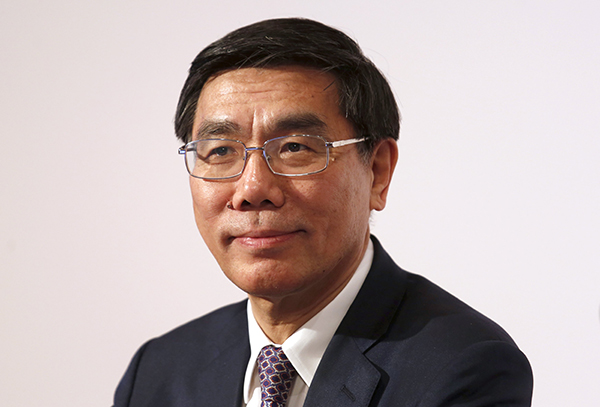 Jiang Jianqing, chairman of ICBC
China's largest commercial lender by assets is on the verge of replacing its chairman, people with knowledge of the matter said on Friday. They said Jiang Jianqing, 63, is set to retire from his position as chairman of Industrial and Commercial Bank of China Ltd.
A person, who declined to be named, said the bank held an internal meeting this week to discuss the matter. At the meeting, senior managers were asked to nominate a new chairman and a president, and the results are expected to be announced a month later.
Yi Huiman, who was born in 1964 and has served as president of the ICBC since May 2013, may replace Jiang as the chairman. Yi's position may be taken by Qian Wenhui, chairman of the bank's Board of Supervisors, reported hexun.com, a Beijing-based business news website.
The ICBC said in a note to China Daily it will release information on executive changes according to the requirements on information disclosure for listed companies.
"At present, our bank does not have information to release on this matter," it said.
The source from the banking sector said: "There were rumors that Jiang is likely to be in charge of establishing a fund to provide financial support for the cooperation between China and 16 central and eastern European countries, but we are not sure about that."
Premier Li Keqiang said in November China wants to expand financing channels for cooperative projects between China and these countries.
Jiang was appointed president of the ICBC in February 2000. He became chairman of the bank in October 2005 when the bank was transformed into a joint stock limited company. A year later, the bank was listed on the Shanghai and Hong Kong bourses.
As of March 31, the bank had assets worth 22.88 trillion yuan ($3.5 trillion). Its net profit was 74.9 billion yuan in the first quarter of the year.
During Jiang's term, the bank expanded its global network and developed business overseas rapidly.
By the end of 2015, the bank had established 404 institutions in 42 countries and regions.
They included 123 branches in 18 countries and regions along the routes of the Belt and Road Initiative, which refers to the Silk Road Economic Belt and the 21st Century Maritime Silk Road.