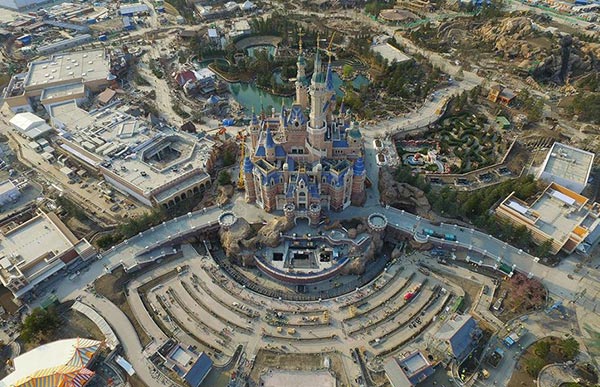 Aerial view of the Shanghai Disney Resort under construction in Shanghai, March 25, 2016. [Photo/IC]
Disney also is using training, benefits and perks (including free passes) as lures rather than base compensation, which from a multinational company is likely to be lower than Chinese State-owned companies, said Kimberly Hubble, executive general manager for recruitment process outsourcing in Asia at Sydney-based Hudson.
Those who have accepted job offers cite an 8,000 yuan ($1,230) monthly salary for an entry-level job.
"Disney would give me some security in life" because it provides health and workplace injury insurance, a housing allowance and a one-month bonus, Zhou said. "And there are lots of different types of jobs at Disney. If I don't want to dance in the future, I could change to another role."
Disney should be prepared for turnover rates of between 30 to 40 percent, recruitment agencies said. Neither the benefits nor the brand would retain ambitious workers seeking better pay packages, said Y.C. Tong, vice-president of talent acquisition at China RPO group in Hong Kong.
"Good quality people, once they work for an organization like Disney and gain experience, have a tendency to leave," he said. "Moving from one job to another is how they increase their compensation at a very fast pace."
Also, Shanghai Disney will face greater competition from local rivals. Industry consultancy Aecom estimated that 59 new theme parks will open by 2020, serving an estimated 220 million park-goers. That's roughly the size of the entire US market right now.
The Shanghai region looks set to become the Orlando of China, with five mega-projects to open there, Aecom said. DreamWorks Animation SKG Inc has a $2.4 billion DreamCenter scheduled for 2017; Haichang Ocean Park Holdings will open China's largest marine park that year; and Six Flags Entertainment Corp will open its first park outside North America in 2019.