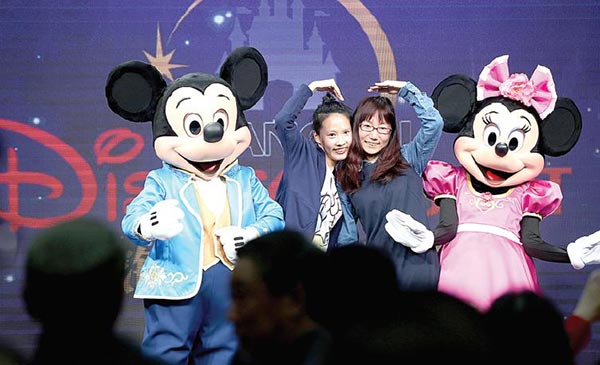 Two women pose for photos with Mickey and Minnie mice in Shanghai.WANG YADONG / FOR CHINA DAILY
Disney recruited from the Chinese hospitality, retail and food and beverage industries and then trained its new hires to run a park with myriad attractions, musical acts and all manner of retail outlets.
"The theme-park industry is relatively small, so there are limited resources available," said Chris Yoshii, vice-president for economics in the Asia-Pacific region for the industry consultancy Aecom. "I don't know of any universities that offer theme-park operations programs."
There currently are about 8,000 workers at the Shanghai park, people with direct knowledge of the matter said. Hiring for park and hotel operations, food and beverage outlets and merchandise sales started in October, the people said, asking not to be identified because the information isn't public.
Burbank, California-based Disney said in an e-mail its pay is on par with the local market and reflects the workers' role.
Disney will be aiming to set a new high bar for service in China, where local parks' standards of cleanliness, maintenance and customer service are generally lower than international operators', said Yoshii, who's based in Hong Kong. Disney opened a Hong Kong park in 2005, yet it's less than a third the size of the Shanghai project and in a city where the workforce is more internationalized.
"It's common to see a lack of upkeep, like peeling, faded paint and busted light bulbs," Yoshii said of Chinese theme parks. "There's also a lack of engagement by staff with visitors, as opposed to the norm in Disneyland, where staff proactively greet and help people and are even expected to break into song and do impromptu performances."