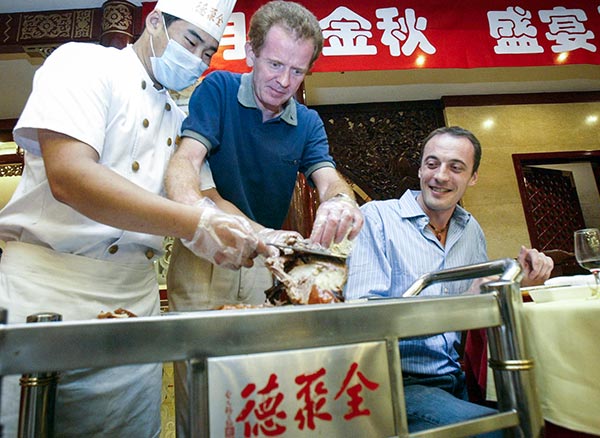 A foreign customer tries slicing a roast duck at a Quanjude restaurant in Beijing. Wang Jian / For China Daily
China Quanjude Group, a State-owned restaurant chain that has been serving traditional Peking roast duck since 1864, is reported to be planning corporate restructuring, which could include a potential changing of its name to "China Beijing first meal".
According to a report in Chinanews.com, quoting staff in the company's legal department, the name-change is not imminent, but discussions have been held by senior executives.
Shi Bingfeng, board secretary of the listed company, was quoted as saying the reorganization plan is yet to be finalized.
The Shenzhen-listed company itself did not comment further, but the report prompted an eventual 5.74 percent rise in the company's share price on Friday, which closed at 20.09 yuan ($3.10), nearly hitting the maximum 10 percent during the intraday trading.
The Shenzhen Component Index slipped 0.87 percent while the benchmark Shanghai Composite Index declined by 0.78 percent on Friday.
Quanjude is controlled by the State-owned Assets Supervision and Administration Commission in Beijing. Its largest shareholder is Beijing Tourism Group Co Ltd, with 42.67 percent of its shares, and Quanjude is the only listed catering enterprise owned by the parent.
According to Beijing Tourism Group, the well-known Beijing hotpot chain Beijing Donglaishun Group Co Ltd is also likely to merge its assets with Quanjude.
Donglaishun has a similar business model to Quanjude, and their marriage is expected to strengthen both their operations.
In addition, some other restaurants, including time-honored brands Fengzeyuan, Sichuan Restaurant and Fangshan Restaurant, also have stakes in Quanjude.
Last year, Quanjude saw its revenues reach 1.85 billion yuan, a marginal 0.38 percent annual rise, but its profits jumped 4.48 percent to 131million yuan.
China's middle- and high-end food and beverage consumption leveled out in 2015, after earlier years of weak performances.
In the past few years, the sector's biggest dampener, has been the government's earlier austerity drive and anti-graft campaign.
A research note from Founder Securities Co has claimed the food and beverage sector is still fragmented, and expects more consolidation in the form of mergers, acquisitions and other forms of restructuring.
The restructuring of State-owned food and beverage operations are going to be in alliance with the ongoing nationwide reform of State-owned companies.
The report said reforms will also allow State companies to develop new products and services to meet the increasing demand of consumers as well as those looking to access more affordable products.