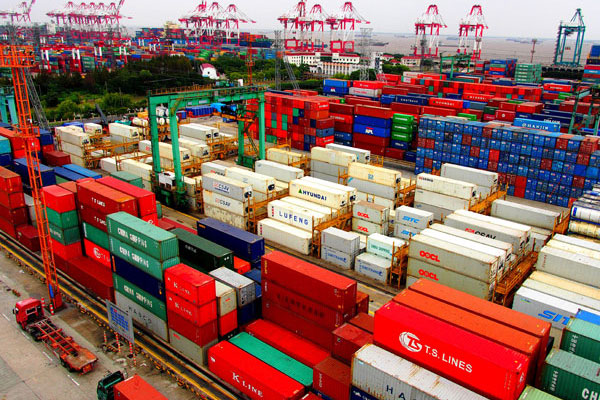 Containers pile up at Waigaoqiao Port in the Shanghai Free Trade Zone. [Photo/Xinhua]
Commerce Minister Gao Hucheng said China is capable of putting its economic growth on a firmer footing although it didn't set up an exact growth target for foreign trade in the annual government work report this year.
China didn't hit its growth target in foreign trade last year due to sluggish global demand and dropping commodity prices, but the decline in China's export growth rate was far lower than that of other major economies, Gao said.
This is the fourth time that China set a trade growth target without giving a specific figure within the past 20 years.
"In addition to weak global demand, other uncertainties, such as fluctuation of foreign currencies and policy adjustment in major economies, have had an impact on both global trade and China's foreign trade volume," the minister said.
Gao said the dropping trade volume in the first two month of this year are mainly caused by continued weak global goods demand and the country's reduced trade activities during the week-long Spring Festival holiday.
China's foreign trade volume reached $3.96 trillion in 2015, down 8 percent year-on-year, and its foreign trade in goods, export value and total online retail sales ranked first in the world. The country's total retail sales and trade in services ranked second globally.