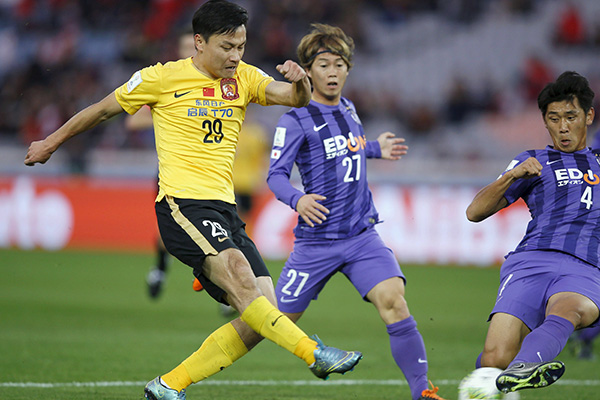 Gao Lin of China's Guangzhou Evergrande kicks the ball as Hiroki Mizumoto (R) of Japan's Sanfrecce Hiroshima tries to stop during their Club World Cup third-place soccer match in Yokohama, south of Tokyo, Japan, December 20, 2015. [Photo/Agencies]
BEIJING - $3.35 billion, that's the market value for Chinese club Guangzhou Evergrande after it finished the first transaction in China's National Equities Exchange and Quotations (NEEQ) on Tuesday, surpassing Real Madrid's $3.26 billion and Manchester United's $2.35 billion.
The Evergrande's transaction per share values at 55 yuan ($8.5), selling 36,000 shares for 1.98 million yuan ($300,000) in the club's first trade after being listed on November, 2015 in China's NEEQ. In this price, Evergrande's market value amounts to 21.8 billion yuan ($3.35 billion) in a total of 396.73 million shares.
Before the Asian champion club's public transaction, the most valuable listed club is English Premier League's Manchester United, which is listed in NYSE. According to the price of $14.31 per share when US markets closed on Monday, Manchester United's valuation was $2.35 billion.
Extending the value rankings to all clubs (including non-listed clubs), La Liga's Real Madrid's worth is estimated at $3.26 billion, according to Forbes' list of the most valuable football clubs in 2015. Another La Liga giant FC Barcelona is valued at $3.16 billion.
But in revenue, Evergrande is not in the same calibre with the European top clubs. Evergrande's average earning in the last three years is 400 million yuan (61 million dollars), much less than Manchester United's 400 million dollars in the same period.
Evergrande has won five Chinese Super League titles in a row since China's real estate tycoon bought the club in 2010, adding two Asian Champions League crowns to its trophy collection as well.
Evergrande is famous for big spending on top players and coaches. The 42-million-euro's signing of Jackson Martinez in winter transfer window is one of the examples. Other players that are playing or have played for the club include Brazilian strikers Ricardo Goulart and Elkson, Argentinian midfielder Dario Conca and Brazlian midfielder Paulinho.
Marcello Lippi, coach of the Italy team that won the 2006 World Cup, is the former coach of Evergrande and another World Cup winning coach Luiz Felipe Scolari is on the job now.