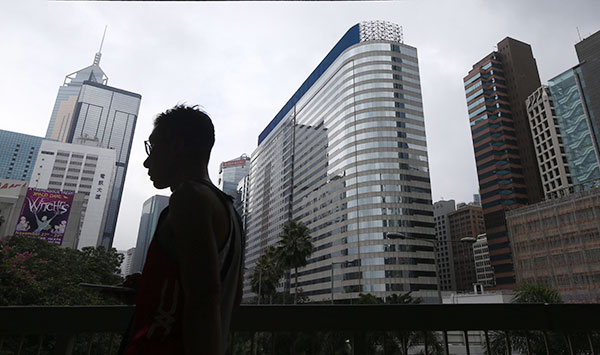 A man walks past Mass Mutual Tower in Wan Chai, Hong Kong. Chinese Estates Holdings Ltd has sold the tower to Evergrande Real Estate Group Ltd for $1.6 billion. [Photo/Roy Liu]
Evergrande Real Estate Group Ltd shares plunged after the Chinese developer paid a record $1.6 billion for a Hong Kong office building, a price analysts at JPMorgan Chase & Co slammed as too high.
The shares of China's third-largest developer slumped as much as 3.98 percent and traded at HK$6.27 ($0.81) at the close in Hong Kong on Friday.
Evergrande agreed to buy the Mass Mutual Tower in Hong Kong for HK$12.5 billion from Chinese Estates Holdings Ltd and will pay the amount over a six-year period. The 26-story building is fully occupied, the firm said in a statement to the Hong Kong Stock Exchange on Thursday.
Evergrande's purchase "at an expensive price is another example of immature capital management", Hong Kong-based JPMorgan analysts led by Ryan Li said in a note. "The low yield doesn't justify the price," which they said was too high given the building's age, limited upside on rental and less desirable location.
The JPMorgan analysts calculated a 1.7 percent "current spot yield". The bank has a HK$3 price target on Evergrande's shares and said it is maintaining its underweight rating on the stock.
The building in the bustling Wan Chai district changed hands for more than 27 times the sum Chinese Estates paid for it more than a decade ago. It bought part of the building for HK$160 million in 1987 and the rest for HK$300 million in 1991, company spokeswoman Eunice Yeung said.
"If you apply a 20 percent premium for naming and signage rights on the building, it is still overpriced by about 70 percent," Karl Chan, one of the authors of the JPMorgan report, said on Friday, in reference to Evergrande's purchase.
It was Chinese Estates' third property sale to Evergrande this year. In July, it sold a residential, commercial and hotel complex in the western Chengdu for HK$6.5 billion. The company sold another property in nearby Chongqing for HK$1.75 billion, Yeung said.
The Hong Kong purchase underscores Guangzhou-based Evergrande's efforts to boost its international profile.
The Chinese developer could rename the building and use the huge rooftop advertising space overlooking Victoria Harbour that is currently rented by Samsung Electronics Co, JPMorgan's Chan said.
"It shows Evergrande's resolution to connect more with investors in Hong Kong, especially foreign funds," said David Hong, Hong Kong-based director of China Real Estate Information Corp.
Chinese Estates is controlled by billionaire Joseph Lau, who paid $48 million for a blue diamond at Sotheby's Geneva auction on Wednesday, the most ever paid for a piece of jewelry at auction.