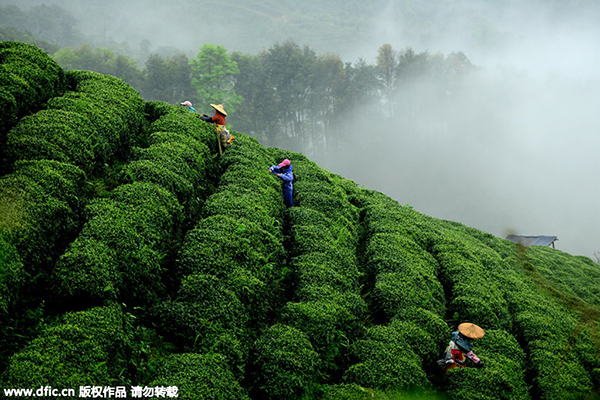 Farmers work at a tea garden in Zhaoping county, Hezhou city, Guangxi Zhuang autonomous region, Mar 15, 2015. [Photo/IC]
BEIJING - Farm produce prices rose modestly last week, the Ministry of Commerce (MOC) said on Tuesday.
The average price of 30 kinds of vegetables increased 1.6 percent last week, with prices of zucchini, white gourd and cabbage jumping 8.9 percent, 8.5 percent and 8.4 percent in a sample 36 Chinese cities, the MOC said in a statement on its website.
Rice prices were up 0.4 percent week on week while flour prices remained unchanged. Egg prices fell 3.6 percent from the previous week. Prices of beef and mutton were down 0.2 percent and 0.7 percent, according to the statement.
Food prices have a one-third weighting in the calculation of China's consumer price index (CPI), a major gauge of inflation.
The country aims to hold this year's consumer price growth at around 3 percent, according to a report delivered by Premier Li Keqiang at the annual legislative session on Saturday.
The target is unchanged from that for 2015. China's CPI last year rose 1.4 percent, a six-year low.