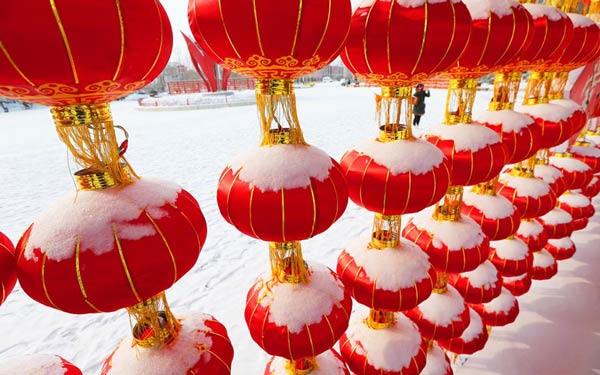 Red lanterns are covered with snow in Raohe county of Shuangyashan city, Northeast China's Heilongjiang province, Feb 9, 2016. [Photo/Xinhua]
For long, Chinese consumers have been enjoying the annual ritual of shopping in the run-up to Spring Festival in February. Now, thanks to e-commerce, the world is partaking of the fun.
Elena Zhang, sales manager of Xi'an Silk Road Crafts Co Ltd, said the company started receiving overseas orders for the Spring Festival in July last year.
The most recent order came in from Spain on Jan 20, for more than 1,000 red anterns made of Chinese fabric.
Orders for various products related to Chinese New Year came in from Russia, Canada, France and Germany as well.
AliExpress, a website that sells made-in-China products to overseas customers, is by far the most used online shop. It belongs to Alibaba, China's largest e-commerce player.
"Fabric lanterns priced between $1.5 and $4.3 each are the most popular items this year. Usually, overseas buyers place their Spring Festival orders in summer every year. But we have seen additional orders around the year-end, too. We infer enthusiasm among overseas consumers for Chinese New Year has been increasing. Also, the convenience of e-commerce appears to increase sales this year," said Zhang.
The city of Yiwu, crowned as the international hub for small commodities, has been witnessing rise in sales to overseas consumers ever since its international shipping operations started on Dec 31 last year. The division shipped more than 1 million parcels out of China till mid-January.
One of the companies making full use of this new service is Yiwu Wonderful Lantern Co Ltd. Xia Rongwang, manager of the company, said a large number of orders materialized since mid-January, especially from overseas Chinese in countries like Malaysia.
"Our China Dream series of lanterns were the bestsellers among overseas Chinese this year. Some of them told me the lanterns make them feel as if they were celebrating the New Year on the Chinese mainland," he said.
Besides Spring Festival-related items like lanterns, overseas consumers splurged on other China-made products to make the most of low prices that were on offer in the run-up to, and during, the holiday period.
According to DHgate, a leading Chinese online wholesale marketplace, Canadian buyers buy a lot of sofa throws and bed throws that are useful during winter. Orders started in October last year, and have been increasing ever since.
Russians lead overseas buyers of Chinese products. Russia has more than 30 million online shoppers. And more than half of them are said to have bought stuff on Chinese online retailers.
According to AliExpress, Russian consumers love buying made-in-China clothes. Owing to the deprecation of the rouble, Russian consumers are cost-conscious, and prefer to buy on Chinese e-commerce destinations where prices are lower.
Consumers in countries where winters tend to be very cold buy made-in-China down jackets and other winter-wear. Felix Zhang, sales manager of Shaoxing Goldson Dress Co Ltd of Zhejiang province, said Chinese down jackets in the $40.5-$46.7 price range are popular among buyers in Kazakhstan, Estonia and Latvia.
"We offer discounts of up to $500 for buyers who order more than 10,000 down jackets. The reason is simple. We run our business directly online. So, we save on costs related to intermediate channels," he said.