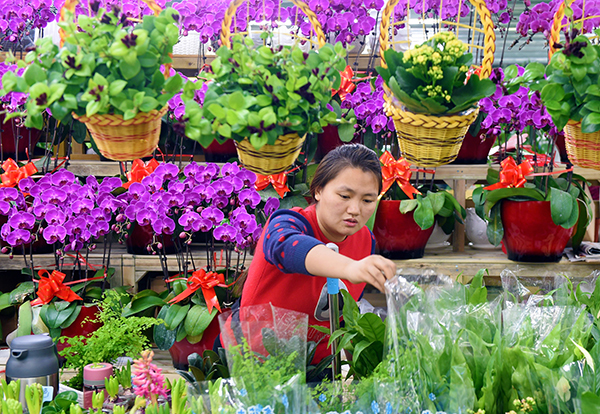 A worker arranges flowers at a market in Shenzhen, Guangdong province. Fresh-flower sales are brisk in urban markets around the country during the Spring Festival season. [Photo/Xinhua]
Exports of Spring Festival-themed plants from the Mazai flower farm in Shunde district of Foshan, Guangdong province, have been relatively stable since the business started two decades ago.
But this year, exports are estimated to fall 10 percent to around $1.8 million, largely due to the depreciation of the Malaysian ringgit, said Du Yaobin, the owner of the farm.
But Malaysia is not the only export market for the farm. Singapore accounts for 40 percent of Spring Festival-related exports. It generated steady annual growth over the past few years because the Singaporean dollar was relatively strong.
Markets such as Vietnam and Indonesia have also remained stable.
Singapore is the only country which allows soil to be imported along with plants, which makes it easier to keep plants fresh, Du said.
"Overseas Chinese have strong interest in Spring Festival," Du said, adding he offers more than 300 types of plants for the festival, including Dracaena Sanderiana, Citrus SP and Anthurium Andraeanum.
Spring Festival-themed plants accounted for 20 percent of the $8 million exports by Mazai last year. About 70 percent of the farm's annual business came from overseas markets.
The Damei flower farm in Shunde recorded 10 million yuan ($1.52 million) in exports this season, which is comparable to last year's sales. Shipments to Singapore, dominated by Citrus SP, took up 80 percent of exports.
New species of plants developed by local farmers, such as Phalaenopsis Hybrids, have been well-received overseas over the past few years, owner Wu Liexi said.
New products carry higher added-value, given the many years that go into their development and the risky nature of the investment, he said.
Many parts of China, most notably Guangdong, have a custom of buying auspicious plants for Spring Festival, which begins on Feb 8 this year.
About 30 million overseas Chinese, many of whom live in Southeast Asia, can trace their roots to Guangdong.
Citrus SP grown in Shunde takes up 80 percent of the market of this species in Southeast Asia, according to Shunde Entry-Exit Inspection and Quarantine Bureau.
This year, Citrus SP exports to Singapore rose by 15 percent for the festival season.
The past two months saw 4.95 million plants of festive plants exported from Shunde, mostly to Southeast Asia.