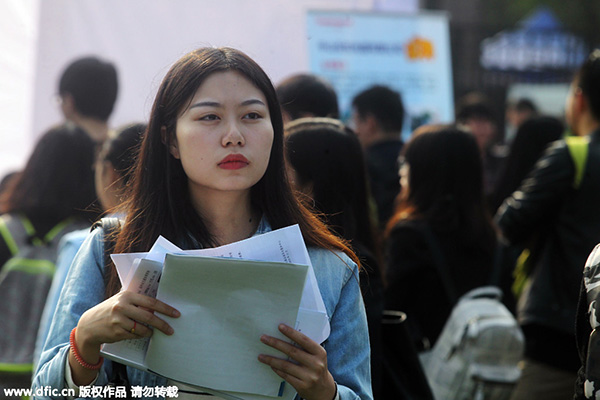 A graduate looks for a job at Chongqing University, Chongqing, Nov 7, 2015. [Photo/IC]
Despite the expectation of slower GDP growth this year, niche professionals, especially those associated with digital technologies, are very likely to seek salary increments in the following months, according to Morgan McKinley, a global hiring company.
Its 2016 salary survey shows overall salaries in China's private sector will increase by 5-8 percent on average this year.
Finance and accounting professionals, and those with expertise in the Internet and e-commerce are more likely to have a salary increase of up to 8 percent.
For those who work in the information technology sector, bonuses and share options will likely to be offered in compensation for long working hours in high-pressure situations, according to the report.
"Candidates who stay on top of developments in their sector and discipline, for example IT professionals who have transitioned to digital and mobile platforms, will do well in 2016," said Rio Goh, managing director of Morgan McKinley China.
A 30 percent raise will likely be seen among e-commerce professionals in the fast moving consumer goods sector, as well as bilingual talents with experience in digital and new media, said Wang Qiang, managing director of Robert Walters, another leading hiring firm.
A digital marketing manager with a cosmetics company in Shanghai, for example, is likely to see his/her annual income jump to 550,000 yuan ($83,596) this year from 450,000 in 2015.
An e-commerce business director working at a Shanghai-based FMCG company will probably see his/her annual income increase from 900,000 yuan in 2015 to 1.1 million yuan this year, said Wang.
Based on Robert Walters' findings, employers in Shanghai are the most generous in terms of offering salary hikes. Their peers in Beijing tend to be conservative.
While most employers in Beijing are likely to keep their staff's salaries unchanged this year, some could even lower them quite significantly in the next few months.
For example, a finance director is likely to see his/her annual income drop to 1 million yuan this year from 1.5 million yuan in 2015.
A sales director in a Beijing-based industrial company will see his/her annual income cut to 1.8 million yuan this year from 2 million yuan in 2015.
For positions not closely related to the digital segment, hikes may still be possible, as long as the candidates have certain professional skills.
According to Hays Plc, a London-headquartered hiring firm, insurance is one of the sectors that will show most vibrancy this year, given the strong revenues and profits of Chinese insurers in the past 12 months.