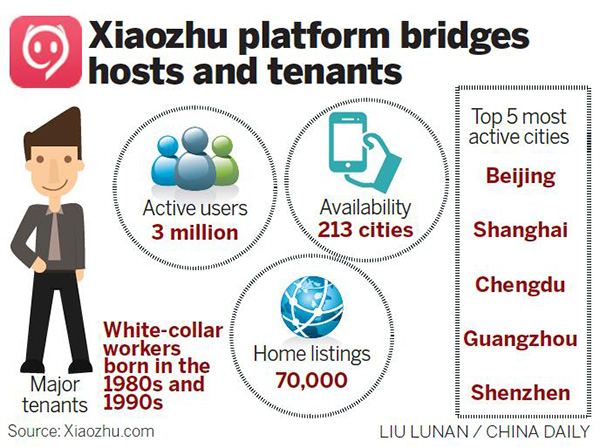 More homeowners are now looking to rent out their properties on a short-term basis, according to the latest figures from rental site Xiaozhu.com.
Younger owners in their 20s and 30s, especially, are deciding to earn from their investments by renting them when not being used, with some properties fetching as much as 520,000 yuan ($79,000) per year.
Chen Chi, a co-founder of Xiaozhu, said growth in what is being referred to as the "shared economy" in China-the peer-to-peer-based sharing of access to goods and services-is driving the trend, and "transforming the accommodation industry" in the process.
"We are seeing more hosts from first- and second-tier cities renting out their apartments, and some are even renting out small commercial properties such as bookstores and flower shops they own," said Chen.
Not surprisingly, the big population centers of Beijing, Shanghai, Chengdu, Guangzhou and Shenzhen witnessed the strongest short-term home renting activity last year. But more owners from smaller cities are also gradually embracing the practice.
The typical temporary landlord is a white-collar worker aged 20 to 35, a profile that accounts for 60 percent of the total short-term tenancies being advertised on the website, said Chen. The study showed that women are more likely to be trusted as tenants and hosts than men.
Launched four years ago with a business model similar to the US rental-sharing website Airbnb Inc, Xiaozhu was listing 70,000 short-term rentals in 213 Chinese cities at the end of 2015, a 350 percent increase on the year earlier.
According to Beijing-based research firm Analysys International, Xiaozhu has become China's largest platform for private homeowners looking to rent out spare rooms too.
Wang Liantao, another co-founder of the website, said a growing number of Chinese now prefer to find a bed for the night from a home-renting platform, rather than book a traditional hotel room.
Rooms in people's homes offer a more local feel, as well as being cheaper and a nice way to make new friends.