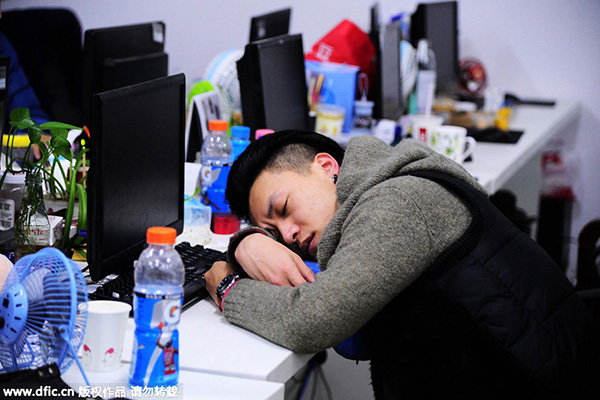 A staff of an e-commerce division takes a nap at his desk at KSW Food Company's headquarters in Suzhou, Jiangsu province, at 5 am, on Nov 11, 2015. [Photo/IC]
China's financial services sector offers a better work-life balance compared with Internet-based technology firms in China, according to a research report.
The China Urban Smart Transportation Report 2015, which was released on Jan 20, says financial sector employees' work day ends hours earlier, compared with the Internet sector.
Jointly published by Didi Kuaidi, China's largest ride-hailing application, Watching Media and the First Finance Commercial Data Research Center, the report states those who work at Jinrongjie, a financial services cluster in western Beijing, mostly leave their offices for home between 5 pm and 6 pm.
But most of those who work in Xi'erqi Software Park, an Internet business cluster in northeast Beijing, finish their day as late as 11 pm. The report showed that employees of Internet firms tend to leave for home between 5 pm and midnight.
The report is based on data gathered from Didi Kuaidi, which processed 1.43 billion online requests for rides in 2015. The apps often receive requests from office workers at Xi'erqi Software Park between 9 pm and 11 pm, signaling long work hours, at Internet firms.
China's online search giant Baidu Inc is one of the Internet firms located in Beijing's Xi'erqi area. The report said that on average Baidu employees finish their daily work at 8:23 pm.
Baidu ranked fourth in long work hours among major Internet firms in China. The Beijing-based Qihoo 360 Technology Co Ltd, a software company known for its antivirus software, topped the list with the average office hours ending at 8:35 pm.
On average, all of the employees at Baidu Inc, Alibaba Group Holding Ltd and Tencent Holdings Ltd, the top three among Internet companies, work past 8:15 pm.
Despite the long work hours, the Internet industry in China has been gaining popularity among jobseekers.
A report published in October 2015 by the China unit of LinkedIn, the world's largest online network of working professionals, showed that Internet-based technology companies are jobseekers' second-most preferred destination, after the financial services industry.
Wendy Mu, senior partner with Experis, a hiring firm, said China's Internet industry has very strong demand for talent due to fierce competition in the market and rapid development in technology.
"In China's Internet industry, people would know who is the best, who is the second-best, but there is no room for the third-largest player. Internet firms have high demands for its employees, that is why people often have long working hours there," she said.
But hard work often comes with better payment. Mu said that Chinese Internet companies have already beaten some well-known multinationals in salary and compensation packages. "An offer with 18-month salaries a year is often to be found in the Internet industry. They have other perks like stock options, which create a large number of millionaires or even billionaires in China," said the Shanghai-based Mu.
But for some jobseekers, there is more to the Internet industry than just money.
Zhou Tuo, who is about to graduate from the US-based Purdue University this summer, is eager to land a job in China's booming Internet sector. "I think Internet will be the infrastructure of everything, just like electricity. Working for an Internet firm means you get to know the most cutting-edge technology and the emerging business model. That excites me," he said.