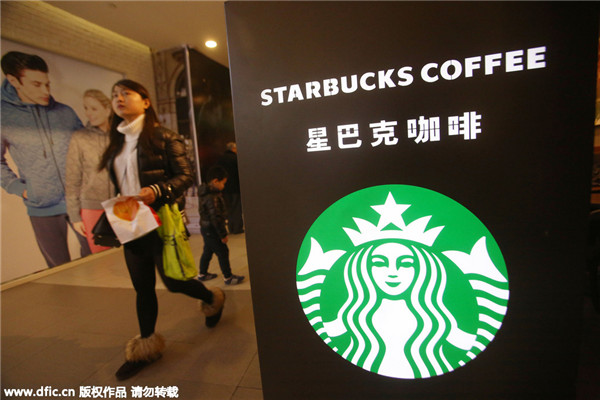 Pedestrians walk past a cafe of Starbucks Coffee in Shanghai on Dec 8, 2015. [Photo/IC]

Service, high-tech sectors targeted amid increased overseas FDI into the country
Foreign companies are keen to invest in China's service and high-tech industries to maintain robust growth, senior Commerce Ministry officials said on Monday.
There is no sign that multinationals are withdrawing from the country on any scale, according to the officials.
Overseas firms are eager to enhance their earning abilities, said Huang Feng, deputy director-general of the ministry's Department of Foreign Investment Administration.
Huang said that multinationals are keen to invest in healthcare, environmental protection, pharmaceuticals, communication and information services in China, and also in high-tech industries that are being developed more slowly than the overall pace of development.
"Foreign companies have discovered that market demand in China is changing as consumers and companies want to buy more high-value-added products and that there is surging demand for the service industry in the country," Huang said.
He was commenting after foreign media reports said that global companies such as Microsoft, Panasonic and Sharp would withdraw or remove part of their business from China to either their home bases or to other emerging markets.
Foreign direct investment into China rose by 6.4 percent year-on-year to $126.27 billion last year, the ministry said.
Foreign investment in the service industry rose by 17.3 percent, accounting for 61.1 percent of the flow in 2015. The remaining FDI was attracted by the country's high-tech, high-end manufacturing and other sectors.
Wan Lianpo, deputy director-general of the ministry's Department of Trade in Services and Commercial Services, said, "Major global companies are still optimistic about the Chinese market and investment prospects after assessing the market potential of other major global economies."
Multinationals including Syngenta, Volkswagen, Luft-hansa, Samsung Electronics, Air Liquide, Bridgestone and Intel made substantial investments in China's service, manufacturing and agricultural sectors last year.
Starbucks plans to open 500 stores this year in China, its largest market outside of the United States. It aims to create 10,000 jobs in the country each year up to 2019.
Uber Technologies, the US ride-hailing company, has committed to invest 6.3 billion yuan ($957 million) in China to diversify its businesses ranging from transportation services to automotive financing.
Li Jian, a senior researcher at the Chinese Academy of International Trade and Economic Cooperation, said that although some multinationals had complained about the changing investment environment in China, they should get used to the new market development model.
This is because China is moving up the value chain and optimizing its industrial structure amid the "new normal" — the phrase introduced by President Xi Jinping to describe growth that is slower but of better quality.