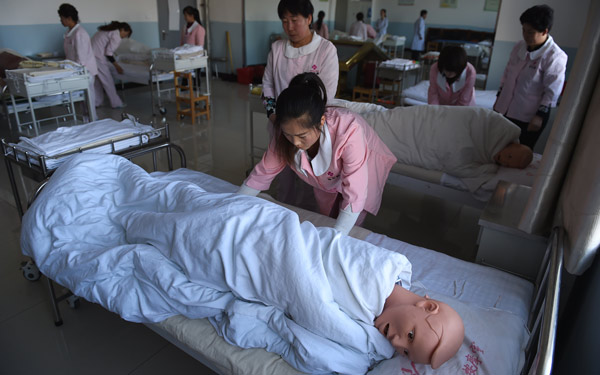 Rurual workers receive training as homecare service workers at a company in Ulanqab, the Inner Mongolia autonomous region. With support from the local government, more than 3,000 rural workers have been trained free of charge. [Photo/Xinhua]
Liu Guihua used to work three hours every Sunday afternoon to help clean my home for a payment of 80 yuan ($13), but last week Liu told me she was going to return to her hometown in Anhui province early next month for the coming Spring Festival holiday.
Liu was the helper that my mother recommended to me early last year after her hard work had won our trust. I hate to do chores at home during the weekend, especially after five days of office work, so looking for Liu's successor became an urgent matter for me.
Since I had little contact with housekeeping companies it was really a headache for me until I thought of seeking applications via my smartphone. I browsed my software application store and was surprised to find that there were so many apps devoted to providing door-to-door home cleaning services.
I downloaded Yunjiazheng, which is headquartered in Shanghai but provides nationwide online- to-offline door-to-door housekeeping services. It has hundreds of contracted workers in Beijing, providing live-in nannies, care for the elderly and long-term part-time home cleaning. Yunjiazheng charges 25 yuan per hour for my home cleaning, which is 1.7 yuan per hour cheaper than what I paid Liu.
I realized that word of mouth is an important standard that would allow me to identify the quality of the services on offer. I tried to search for customers' comments on Yunjiazheng and some other apps such as Jiazhengwuyou and Ayibang, but I failed to find any because these apps only do business by cooperating directly with housekeeping companies.
I was sorry to see they do not have an instant messaging function similar to that on JD.com or Tmall.com for potential customers to study other people's shopping experience before making a choice. This is a feature that apps of this kind should introduce in the future.
As a result, I had to search online for such comments, and after comparing them with offers from some other applications such as Jiazhengwuyou and Ayibang, I decided to choose Yunjiazheng's offer. Yunjiazheng passed my order to a Beijing housekeeping company for it to arrange a worker for me according to my requirements.
Home service workers with a better level of education or professional skills are more popular. They can get more pay than those who come from rural areas with a low education level.
Zhao Yuxi, a Beijing-based housekeeping company boss, told me that many of his company's employees are in their 40s from remote rural areas, and they only have a primary-level education. Despite the fact many of them have a weak educational level, they still have certain advantages, he said. For example, in order to compete for orders on apps many of them have bought smartphones, he said.
Meanwhile, some families also have different preferences. For example, a Shanghai family would be unlikely to hire a cook from northern China. For them, a native of Shanghai is likely to be the best choice.
Since consumers can do comparative shopping by browsing housekeeping apps on their smartphones, home service workers have to improve their competitiveness. As a result, vocational training has become a profitable industry. Although there is no official data on vocational training schools, provinces and regions have set up strong vocational training industries as they witness a growth in the number of migrant workers.
No doubt, the battle is becoming fierce in the domestic housekeeping market as an increasing number of app-armed startups are challenging the traditional housekeeping companies by providing attractive offers in a variety of services at competitive prices. With an estimated market value of more than 1 trillion yuan, the housekeeping service industry is continuously growing with the participation of various apps.
However, according to Chinese media reports, there is still great room for improvement, as only about 30 percent of China's migrant workers have so far undergone vocational training. A lack of technical knowledge is the main obstacle preventing them from becoming professional workers, home service workers in particular.