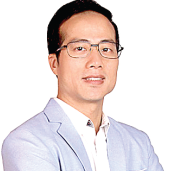 Li Caisheng, founder of Shenzhen Eagle Brother UAV Technology Co Ltd [Photo/China Daily]
Li Caisheng knows well how hard and time-consuming the task of spraying pesticides in the farmland could get.
The founder of Shenzhen Eagle Brother UAV Technology Co Ltd, an active participant in the development of agricultural unmanned aerial vehicles, or farm drones, was born in a peasant family.
Li believes there is an urgent need for an efficient alternative to the onerous farmland task.
It is reported that work efficiency of farm drones can reach 40 times compared to humans, while 50 percent of pesticide and 90 percent of water can be saved.
That's why, he founded Eagle Brother. The agricultural UAV sector, Li thinks, offers huge business opportunities as well. "The market for agricultural UAVs could reach hundreds of billions of yuan. There is a huge space out there to explore."
The Shenzhen-based company has expanded not only in the domestic market but to Malaysia and Thailand.
With the acceleration of the agricultural modernization process, demand for advanced farming devices has been growing significantly in China.
The China Science Daily reported last month that about 100,000 units of agricultural UAVs will be needed by 2020.
Sensing a potential opportunity, a number of drone makers are stepping into the market.
In November 2015, Shenzhen-based DJI, the world's largest maker of consumer-level drones, launched its first agricultural drone, the MG-1, marking its diversification into the industry-level drone market.
The Ministry of Agriculture issued an action plan in February 2015 to curb the increase in pesticide usage to zero by 2020.
The plan envisages promotion of use of modern agricultural machinery, including UAVs, to enhance the utilization ratio of pesticides while reducing their use.
The Chinese government has also moved to offer subsidies to encourage use of drones in agriculture.
In Henan province, for instance, farmers are given subsidies to cover 30 percent of the cost of farm drones, in addition to subsidies from the local government.
But Li believes the high cost of agricultural UAVs could pose problems. A farm drone could cost anywhere between tens of thousands of yuan to hundreds of thousands of yuan, taking it beyond the reach of small-scale planters. This factor could impede wide application of the aerial technology.
"Poor support services, including ordinary after-sales service, is also a big challenge for the development of the industry," Li said.
Some market researchers, however, point out farm drones may not be the best solution in all regions now.
In places where agriculture is intensive, like western Xinjiang region, advantages of pesticide spraying by drones are obvious, said Jean Xiao, a research analyst at market intelligence firm IDC.
"But in regions like Guangdong province, where farmlands are relatively scattered, human work is still a more efficient way of farming."