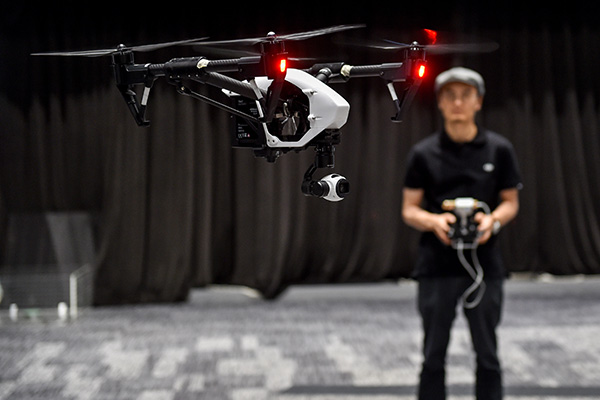 Wang Tao, founder and CEO of DJI Innovation Technology Co, operates a drone in Shenzhen, Guangdong province. The turnover of China's civil-use drone market is on track to soar to 2.3 billion yuan this year, according to an Analysys International estimate. [Photo/Xinhua]
Chinese drone maker DJI Technology Co is opening its largest retail store in Shenzhen, Guangdong province, later next month.
The 800-square-meter store will give DJI, which claims to control about 70 percent of the global drone market, a boost in the retail sector and help ward off competition from overseas players.
DJI said in a statement that the store has floor space larger than the passenger cabin of an A380 aircraft. It will be located in a busy shopping district named OCT Harbor, and will open for business later next month.
She Shuanglin, a researcher who tracks the drone market at research firm Analysys International, expects the new store to spark demand for drones.
"DJI plans to open similar stores in other cities like Beijing and Shanghai so that customers can see and experience their entire range of products," She said. "But it will need big stores to display the entire range of products."
Retail prices for the company's drones start at around 4,000 yuan ($630), with high-end products priced above 20,000 yuan.
The company has indicated it will not go in for a sizable expansion and will stick to just one or two outlets in each city, She said.
DJI already has several authorized and small-sized stores in major cities.
Turnover of the civil-use drone market in the country is set to reach 2.3 billion yuan this year, a 55 percent jump from a year earlier, according to an Analysys International estimate. Demand for drones in the country is likely to exceed 11 billion yuan by 2018, it said.
Overseas drone makers are also eyeing the rapidly growing market in China.
Nicolas Halftermeyer, chief marketing officer of France-based Parrot SA, told China Daily in an earlier interview that the company sees China as a key market for its inexpensive drones designed as kids' toys.
Parrot's drone business generated 44.4 million euros ($47 million) in revenue in the third quarter of this year, a 60 percent surge over a year earlier.
DJI, however, is planning a slew of measures, like ramping up hiring, to counter competition.
It is also building a development center in Silicon Valley in the United States and has hired top engineers from companies like Apple Inc and Tesla Motors Inc.
Darren Liccardo, former head of Tesla's autopilot project, joined DJI in August to head its engineering, systems and application development.
Rob Schlub, a former antenna expert from Apple, joined DJI's research facility in Palo Alto, California, to oversee the entire development team.
She from Analysys International said the cash-rich DJI is making aggressive investments in overseas recruitment to maintain a technology edge over its challengers.
"DJI will remain focused on unmanned aviation and high-performance camera development in the coming years," said She.
DJI said it has a 1,500-member R&D team in Shenzhen. Its US facility will be responsible for advanced technology development.