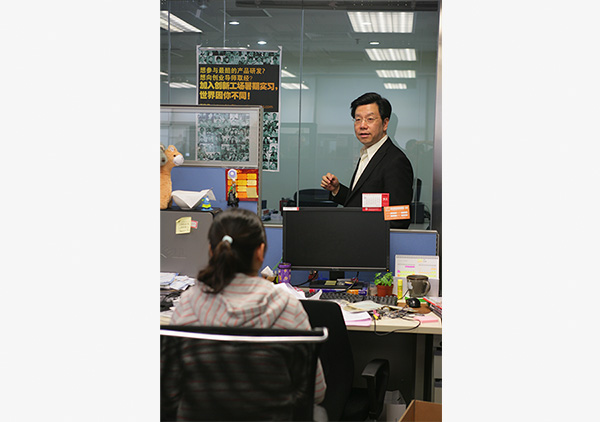 Former China head of Google Inc Kai-Fu Lee at his Innovation Works in Beijing. He is planning an initial public offering at his venture firm. [Photo provided to China Daily]
Kai-Fu Lee, the former China head of Google Inc, is planning an initial public offering at his venture firm, with a portfolio of hundreds of companies valued at more than $2 billion.
His startup incubator, Innovation Works, is seeking to list its business management arm on China's over-the-counter market, known as the Third Board, according to regulatory filings. Dubbed the "godfather" of China's angel investing, Lee's Innovation Works has $500 million in assets under management, according to its website.
The firm has backed 200 companies, with the top 20 performers worth more than $100 million each, according to the filings. The 195-page document does not break down Lee's exact holdings or disclose specific company valuations.
Among the better known investments is Meitu, makers of the second, third and fourth most popular photo apps for the iPhone in China in November, according to App Annie, a mobile software tracker. Innovation Works also backed the Q&A site Zhihu.com, robot-maker Ainemo Inc and mobile app search engine Wandoujia, which secured an additional $120 million in a round led by Japan's SoftBank Group Corp.
Innovation Works is similar to Y Combinator Inc, the American incubator that raised $700 million earlier this year and has invested in companies that were worth more than $20 billion. There is no time frame on the listing of the unit of Innovation Works, but offerings typically start six months after filing with the OTC market.
The proposed listing comes as venture capital investments in China are on the rise and risks from overheating have emerged. The value of venture deals in China surged to $28.6 billion during the first nine months of the year, according to Preqin Ltd. Despite a sharp drop in share prices this summer, investor confidence has returned to the tech sector in China. Prices on the ChiNext board are up 85 percent so far this year, and shares are trading at 78 times earnings.
Lee, who declined to comment, does not own shares in the part of the company that will list, but is contractually entitled to 20 percent of any of its profits, according to the filing.