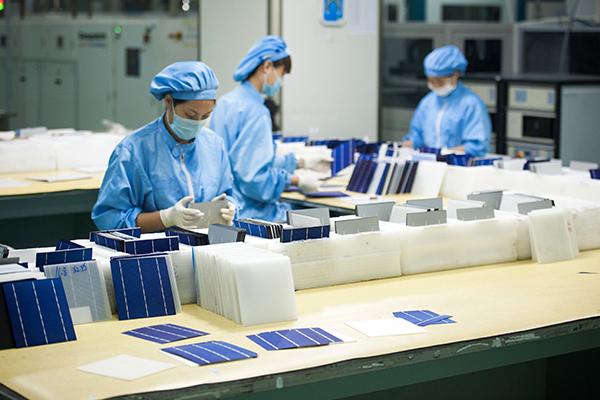 Technicians test solar panels at a workshop of Yingli Green Energy Holding Co in Shijiazhuang, Hebei province. [Photo/Xinhua]
10 parties interested in sorting company's $1.9 billion obligations
Yingli Green Energy Holding Co, the cash-strapped solar giant, has confirmed it is in talks with potential investors over a debt-restructuring plan, in an attempt to gain the upper hand on rising interest payments and falling margins.
The company, based in Baoding, Hebei province, and the world's second-largest solar producer, plans to invite strategic investors, said spokesman Wang Zhixin, as it accelerates the pace of its asset reorganization, without revealing further details of what that might entail.
"The difficulty the company faces is cash flow," he said.
"The restructuring has attracted huge interest from companies in either capital participation or management, because there are no doubts about Yingli's technologies, distribution network and its brand."
The moves come after China Banking Regulatory Commission, one of the country's top financial regulators, appealed directly to banks and financial institutions to help support the solar firm's reorganization, to achieve what it called a win-win result.
A source close to the matter said at least 10 investors, including solar companies and financial institutions, have been in contact with Yingli.
"Most are State-owned companies from Beijing, while others are from places such as Jiangsu, Zhejiang and Guangdong provinces," the source said.
Many Chinese solar companies started to see light at the end of tunnel last year after slowly reducing overcapacity, but Yingli is faced still with high levels of debt.
It has been a dramatically quick fall from grace for the firm.
It became the world's largest solar maker measured by shipments in 2012, but has not reported a profit for the past five years with total debts standing at around $1.9 billion at the end of the third quarter last year, raising concerns over whether it could stay afloat.
The company's liabilities had topped 18.4 billion yuan ($2.8 billion), and its asset-liability ratio reached over 100 percent, according to a financial statement for the first three quarters.
Commentators said a number of factors have contributed to its demise, including rising raw material prices, steep import tariffs set by the European Union and the United States, and irrational expansions at inappropriate times.
Some have even suggested the company's interest payment obligations have effectively left it unable to ever return to profit.
Yingli actually signed beneficial fixed-price, long-term raw material contracts in early 2000 to gain access to secure low-priced supplies. But a glut in the domestic solar panel market saw product prices fall by nearly 70 percent since 2010, wiping out any gains it made on the supply deals.