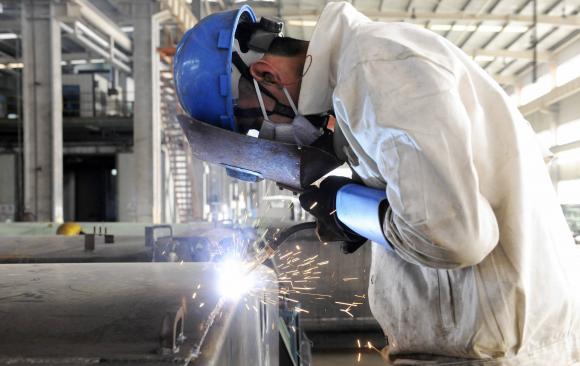 An employee welds the exterior of a vehicle along a production line at a factory in Qingdao, Shandong province. [Photo/Agencies]
The Chinese government will face a particularly weighty workload this year amid great uncertainty over world economic trends and China's own challenges as it undergoes a period of economic transition.
That was the thrust of remarks made by Premier Li Keqiang during the State Council's plenary meeting on Friday in Beijing.
"At the moment, the world economy is developing with deep uncertainty, and the task for the Chinese government in 2016 will be heavy," he said.
On Jan 6, the World Bank, headquartered in Washington, DC, cut the global growth forecast for 2016 to 2.9 percent, saying that weak growth among major emerging markets will weigh on global growth in 2016.
Li noted that many world organizations also lowered their predictions for world economic growth several times in 2015, and China also has its problems and contradictions to face during this stage of transition.
Therefore, the government needs to do a better job putting forward its structural reforms this year, especially its reforms on the supply side of the economy.
Li also said comprehensive measures should be employed to maintain stable growth.
The meeting, attended by officials from various State departments, was to discuss the draft of the Government Work Report, which will be delivered at the top legislature's annual session in Beijing after the Spring Festival.
The State Council will then send the work report to provincial regions to solicit opinions. It serves as a general guideline for the government's work as it reviews progress in the previous year, makes plans and sets targets for the current year.
Li said that China had met its major goal set in the 12th Five-Year Plan (2010-15), during which the country's GDP rose from 40.9 trillion yuan to 67.67 trillion yuan ($6.2 trillion to $10.3 trillion).
The achievement was not easy, Li said, adding that those measures that proved effective should be further employed and developed.
The government needs to make concrete progress in handling the decrease in industrial profits, maintaining stable increases in China's exports and imports, expanding effective investments as well as accelerating reforms of State-owned enterprises in 2016, Li said. He stressed that the government needs to pay attention to answering the concerns of society.
This year marks the beginning of the country's 13th Five-Year Plan (2016-20), a new national development plan that Li described as a defining stage for China in building a moderately prosperous society.
The coming five years also will be a crucial stage for China in avoiding the so-called middle-income trap that many countries have found themselves in.
Wang Huiyao, president of the Beijing-based think tank Center for China and Globalization, said that stabilizing China's economy will be important in giving other countries confidence in the world economy.
"Having pessimistic feelings about the world economy is quite a typical phenomenon for many countries in the world, as many European countries are still in economic recovery and the US will have another year of presidential debate," he said. "China's economy continuously grows larger, and its export figures started to decrease in 2015, which means that the country's economic reliance on the world has decreased. Stabilizing China's economy will help other countries with confidence during a world economic downturn."
Wang, who began a term as one of the 10 counselors of China's State Council, or the Cabinet, in early 2015, said that directly facing social concerns shows the government's strength and confidence in achieving its goals in 2016.