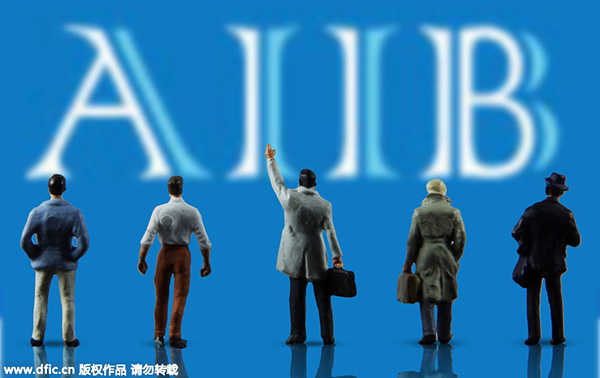 [Photo/IC]
On January 16-18, the Asia Infrastructure Investment Bank (AIIB) is scheduled to launch its inaugural ceremonies and hold a Board of Directors meeting to start operations.
As early as Feb 25, 2015, the AIIB Articles of Agreement were signed by different nations. It's the first China-initiated multi-lateral financial institution, which is headquartered in Beijing.
The bank's founding had gone smooth. In October 2013, Chinese President Xi Jinping and Premier Li Keqiang had proposed to establish the AIIB during their trips to Southeast Asia.
In 2014, Beijing contacted other nations to move ahead on AIIB. In October, 21 Asian nations, including China, India, Malaysia, Pakistan and Singapore signed The Memorandum of Understanding on Establishing the AIIB.
From November 2014 to March 2015, bank negotiations were held in Yunnan, China, Bombay, India and Alma-Ata, Kazakhstan. The meetings had outlined policy making, business and operational systems, governance structure and the rules for acceptance of new members.
It took less than two years to form the bank. Meanwhile, it is widely-known that Eurasia did not enjoy balanced development in the past few decades.
China, Japan and South Korea in East Asia have been grown rapidly, making two economic highlands together with European developed economies in east Eurasia, while there is a large valley in between.
The countries in between remain underdeveloped, esp. in the fields of infrastructure that hinder local markets to integrate in Eurasia.
There's stronger demand for infrastructure development within and outside Asia. AIIB offers an alternative approach to finance that differs from Western powers. So, some countries have worried that AIIB would challenge the established financial order. Accordingly, the US and Japan have not joined the Beijing-based bank.
Among 57 founding member states, four of them are permanent member states of the United Nations Security Council - China, United Kingdom, France and Russia - and a majority are G20 members and all BRICS (Brazil Russia, India China and South Africa) countries have signed up. This shows that the AIIB is widely welcomed.
Rather than being a competitor, the AIIB would complement the current international economic order to cooperate with existing multi-lateral banks to promote sustainable development of the regional economy.
As a pillar of economic growth, infrastructure investment is endowed with commercial investment opportunities. The AIIB would aid infrastructure construction of Asia-Pacific countries, and potentially other nations as well.
The bank would finance the infrastructure projects of each country in different ways, including loans, equity investments and guarantees, to promote the fields of transportation, energy, telecom, agriculture and urban development.
China is the second-largest economy of the world. The AIIB would enable China to join the international financial system, which would also include its efforts for the Chinese currency Yuan going more international and supporting the Silk Road Economic Belt. It would also enable China to take more global responsibility.
The AIIB stands in line with the interests of all founding members, and is endowed with broad prospects.
Dr. Yang Jin is an associate researcher of Institute of Russian, East European and Central Asian Studies, Chinese Academy of Social Sciences