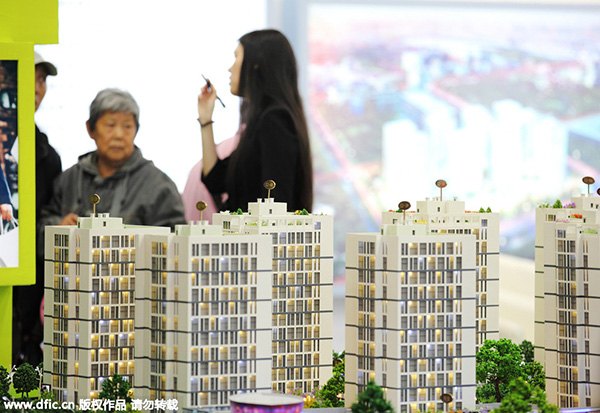 A sales woman introduces an overseas property program to visitors at a spring real estate exhibition held in Beijing, April 17, 2015. [Photo/IC]
High-end commercial housing has increasingly become the darling of homebuyers in Beijing, as the capital in 2015 saw the average price of a unit reach 4.64 million yuan ($704,500), a record high in six years, the Beijing News reported on Thursday.
Figures show a total of 35,112 commercial units worth 162.9 billion yuan within the sixth ring road in Beijing were sold in 2015, up 22 percent from a year earlier, the newspaper cited a survey by Centaline Property Agency.
The city's luxury property remains red-hot, despite the overall tepid housing market in the country. About 261 units, averaged at more than 100,000 yuan per sq m, were sold last year, according to the report.
The entire real estate market in Beijing tends to be high-end oriented, which means luxury housing and high-priced commercial units become increasingly popular, the newspaper quoted Zhang Dawei, chief analyst at the Agency, as saying.
The capital saw a small rise in home sales last year, with more than 100,000 units of new residential homes were sold, up 36 percent from 2014, according to crienglish.com citing figures from the municipal housing department.
The average housing price last year stood at around 27,000 yuan per sq m, up nearly 10 percent compared with 2014, it said.