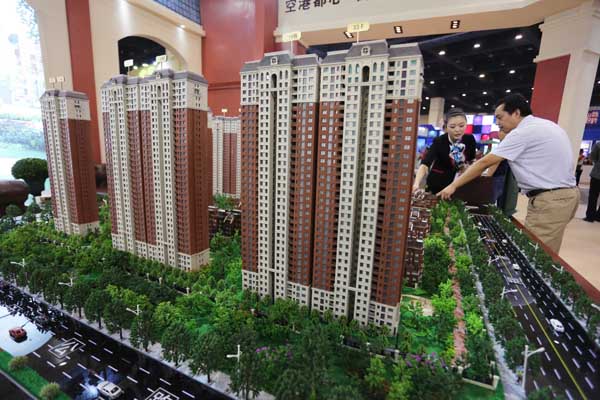 Potential homebuyers visit a housing expo in Zhengzhou, Henan province.[Provided to China Daily]
BEIJING - China will roll out measures to reduce its property inventory and stabilize its ailing housing market, said a statement released Monday after a key policy meeting.
Attendees of the Central Economic Work Conference agreed that rural residents relocating to urban areas should be allowed to register as city residents, which would enable them to buy or rent property.
This will increase the number of home buyers.
In addition, a low-rent public housing program will cover those without household registration, according to the statement.
Individuals and organizations will be encouraged to buy-to-rent properties, and the government will support rental enterprises.
Property developers will also be encouraged to change marketing rules and "properly" reduce home prices.
The statement also said the country will promote the consolidation of property developers.
"Obsolete restrictive measures [in the property market] should be revoked," said the statement.
Although nearly 55 percent of China's population live in cities, less than 40 percent are registered urban residents.
China plans to raise those numbers to around 60 percent and 45 percent by 2020.
China's housing market took a downturn in 2014 due to weak demand and a supply glut. The cooling has continued into 2015, with sales and prices falling, and investment slowing.
To address market weakness and a broader economic slowdown, China's central bank has cut benchmark interest rates five times since last November and lowered banks' reserve requirement ratio three times since February.
The country also lowered deposit requirements for second-home purchases and some local governments have rolled back restrictions on home purchases.
Thanks to the measures, the housing sector has experienced a mild recovery since summer with improving home prices.