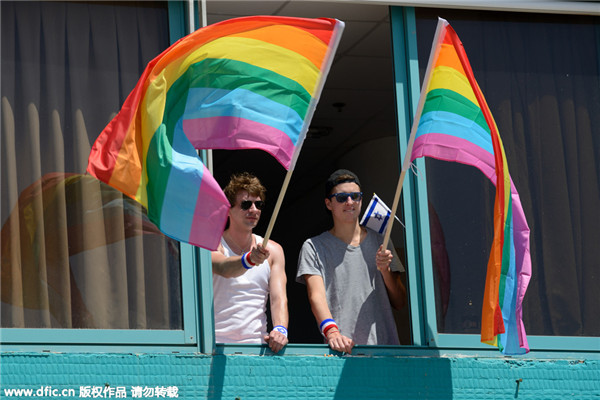 Men watch the Annual Gay Pride Parade as they hold rainbow flags in Tel-Aviv, June 12, 2015. [Photo/IC]
Chinese Internet game developer Beijing Kunlun Tech Co has purchased a controlling stake in US gay dating application Grindr to broaden its product portfolio and add new revenue streams.
Beijing Kunlun paid $93 million in cash for a 60 percent share in New Grindr LLC, which values the six-year-old startup at $155 million. Consequent to the announcement, Beijing Kunlun shares climbed by the maximum daily 10 percent limit on Tuesday to 36.47 yuan ($5.53) on the Shenzhen Stock Exchange.
Grindr has 10.5 million users in more than 196 countries and regions, with 30 percent of them from the United States. The Los Angeles-based mobile app matches users based on location and personal photos.
Beijing Kunlun said in a statement that the deal is part of its broad efforts to build an ecosystem where users of its gaming, social networking and Internet finance services can be mutually converted and grow in parallel.
In June, Beijing Kunlun bought a 20 percent stake in United Kingdom-based mortgage lender LendInvest Ltd for $34 million.
Joel Simkhai, founder and CEO of Grindr, said in a statement: "Our new alliance will allow us to further expand and offer a more comprehensive array of proximity-based services."
It is not clear whether Beijing Kunlun will help bring Grindr to China. The two companies were not immediately available for comments.
Chen Jingyi, a public relation official at Beijing Kunlun, said: "We will help bring Grindr to China and other Asian markets where our mobile games are popular."
Chen Xu, an analyst at Beijing-based Internet consultancy Analysys International, said Beijing Kunlun is quite interested in Grindr's global reach, especially its Western user base which can help the company expand its international presence.
"Most gaming enthusiasts are male users and the gay social-networking site offers a big pool of potential foreign consumers for Beijing Kunlun," he said.
The deal came as the country is undergoing a rapid change in public attitudes toward homosexuality and a number of mobile apps are emerging to meet the group's social networking demands.
Geng Le, CEO of Blued, a Chinese gay social-networking app, said: "I was surprised that the stock market responded so positively to the news."
"At first, we thought it was possible for companies like us to go public only in the US, but now it seems that the domestic capital market is equally open and promising."
When asked about the competition from Grindr, Geng said: "I don't worry about it. Grindr will find it quite difficult to enter into China given the sharp cultural differences. Besides, it is already having difficulty in Asian markets like Japan and South Korea."
Started in 2012, Blued currently has 22 million users and secured funding from venture capital firm DCM Ventures.
Other players such as GeeYuu and lesbian social-networking sites like LesDo are also growing quickly.
According to the latest report by Coolchuan, an app tracking platform, gay social-networking apps have been downloaded at least 40 million times in China during the first half of 2015.